Requisitions/Hiring Approval – UX Revamp
19 Jul 2017
by

Array
(
    [0] => WP_Term Object
        (
            [term_id] => 102
            [name] => Enhancements
            [slug] => enhancements
            [term_group] => 0
            [term_taxonomy_id] => 102
            [taxonomy] => category
            [description] => 
            [parent] => 0
            [count] => 40
            [filter] => raw
            [cat_ID] => 102
            [category_count] => 40
            [category_description] => 
            [cat_name] => Enhancements
            [category_nicename] => enhancements
            [category_parent] => 0
        )

    [1] => WP_Term Object
        (
            [term_id] => 96
            [name] => Product Updates
            [slug] => product-updates
            [term_group] => 0
            [term_taxonomy_id] => 96
            [taxonomy] => category
            [description] => Product Updates
            [parent] => 84
            [count] => 160
            [filter] => raw
            [cat_ID] => 96
            [category_count] => 160
            [category_description] => Product Updates
            [cat_name] => Product Updates
            [category_nicename] => product-updates
            [category_parent] => 84
        )

)


Enhancements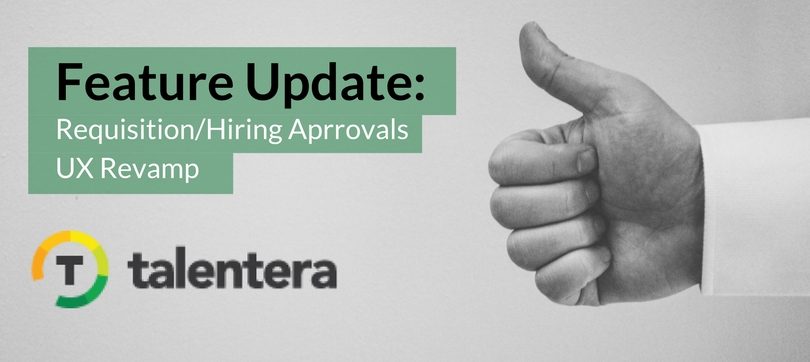 Gist: The User Experience for both Requisition and Hiring Approval modules has been revamped for enhanced functionality and user convenience.
What's new?
– A more elegant, clear and readable design.
– All actions are now grouped in one single menu.
– A clearer label has been introduced that indicates the current requisition/hiring-approval status [Approved, Pending approval, Pending HR review…]
– We have a new tab called the 
Activity log
 which contains all comments, history log and actions in a single place.
– The logs can be filtered depending on what the user wants to see.

Don't you like it when you mention your friend on Facebook?
We now offer the same experience.
A user can add specific user names or even a group of users by mentioning the role name in a comment.
Example: "@Barry Adams" will add comment for "Barry" and he will receive a notification as well.
You can also mention all recruiters by typing in "@recruiters" and the whole group will get notified!
– A better experience for assigning approvers for a specific request.
– The brand new 'Remind' action sends a reminder email to the user when a request is still pending his/her approval.
– A better experience when you wish to Change Ownership.
We hope you'll find all these enhancements useful.