Try Our Revamped Tagging Experience
14 May 2018
by Ammara Zubair

Array
(
    [0] => WP_Term Object
        (
            [term_id] => 102
            [name] => Enhancements
            [slug] => enhancements
            [term_group] => 0
            [term_taxonomy_id] => 102
            [taxonomy] => category
            [description] => 
            [parent] => 0
            [count] => 40
            [filter] => raw
            [cat_ID] => 102
            [category_count] => 40
            [category_description] => 
            [cat_name] => Enhancements
            [category_nicename] => enhancements
            [category_parent] => 0
        )

    [1] => WP_Term Object
        (
            [term_id] => 96
            [name] => Product Updates
            [slug] => product-updates
            [term_group] => 0
            [term_taxonomy_id] => 96
            [taxonomy] => category
            [description] => Product Updates
            [parent] => 84
            [count] => 160
            [filter] => raw
            [cat_ID] => 96
            [category_count] => 160
            [category_description] => Product Updates
            [cat_name] => Product Updates
            [category_nicename] => product-updates
            [category_parent] => 84
        )

)


Enhancements
You're a busy recruiter with moves to make, talent to recruit, and vacancies to fill- there's a lot on your plate that we see! This is why Talentera strives to keep diversifying our tools to help you stay efficient, and ever ready to power through your hiring targets.
What Talentera's Remodelled Tagging Feature Has In Store:
Talentera takes pride in being your one-stop recruitment and talent management powerhouse- this is why we are committed to consistently improving our technology so that you can reap the benefits of simplified hiring without the hassles of complicated workflows. Keeping in mind your priority of quick and confident talent acquisition, we have revamped our CV tagging process so you can keep your hiring targets on track.
Our brand new interface is built to work smart so you don't have to work hard to find desired candidates or applicant lists- but that's not all! CV tags are now easier to add than ever before on candidate profiles- we're saving you clicks so you can get your tagging done at lightning fast speed with enhancements including auto-suggestion lists. Bid farewell to your CV search challenges and prepare to see your productivity skyrocket.
Wait, it gets better- you can now also add a visual spark to your hiring processes; select colored borders of your choice for every new tag you implement to emphasize an association or simply attract attention where needed most. Our color palette provides 16 shades for you to choose from, pick the shade that can give you best visual cues reflecting the relevance of tags such as red for rejected, yellow for shortlisted, etc.
How To Use Talentera's Revamped Tags- A Quick Overview:
1) Adding Tags: There's a number of simple ways that the tags can be added to the profiles of your preferred candidates, and we'll quickly walk you through the steps to demonstrate how user-friendly they are.
Option 1: Adding Tags Under Applicants View
– Click on the jobs tab to see a listing of all candidates that have applied for your vacancy.
– In order to add a tag to a single CV,  click on the checkbox on the right side of the candidate's mini-profile view.
(Note: To add tags to multiple CVs simultaneously, click on the checkbox on the right side of the mini-profile views of the various candidates that have caught your attention. Alternatively, you can choose the "select all on this page" option as well).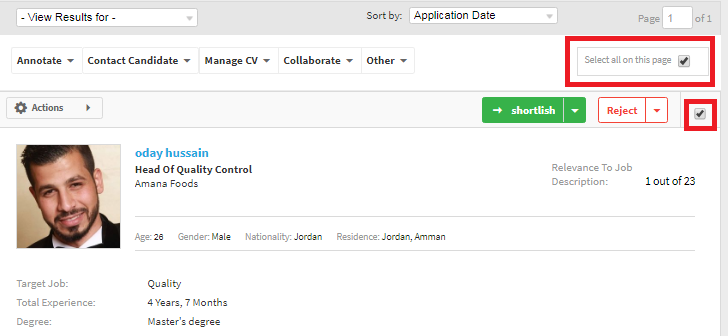 – Click Annotate > Add tag to CV.

– Type in desired tag title > Select border color for the tag > Click Ok.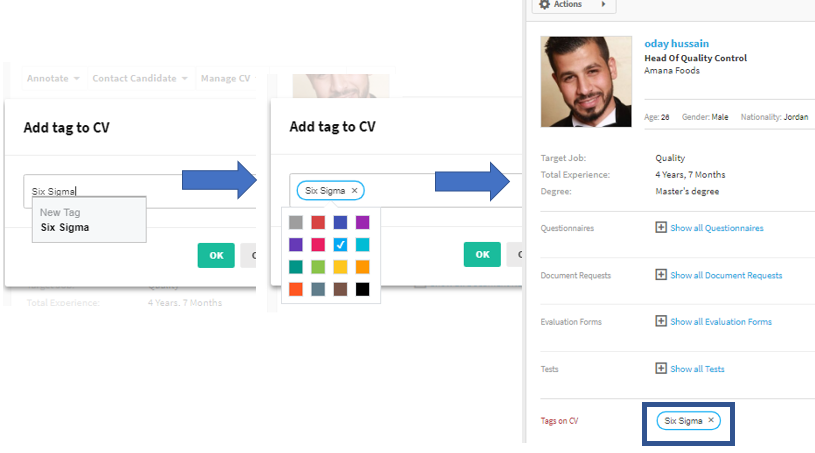 – Success! Your new tag will now be displayed in the "Tags on CV" section.
Option 2: Adding Tags Under Candidate Search
– When you're searching for talent based on your preferred criteria and see a profile you'd like to segment as special, simply click on the button titled "Actions" > click "Add a tag".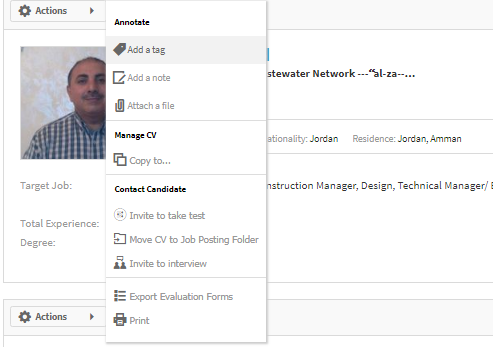 – Create a new tag with a title up to 40 characters long; use a short text description to maintain context so that you face no trouble in searching for the tagged profiles later. Already have a pre-existing tag you'd rather use? Just type in the tag name; the drop-down list will assist you in quickly finding the right match you're seeking.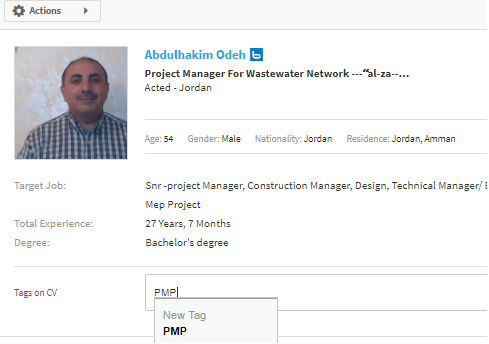 – Select desired border color for the tag > Click Ok.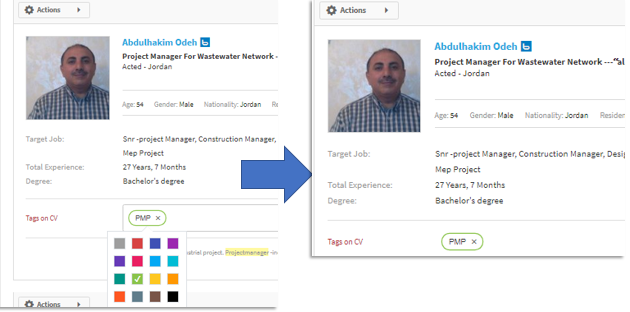 – That's it! The tag has now been added to the profile.
Option 3: Adding Tags Under CV View
– Click on the candidate's name to open their profile, and in the menu bar at the top left you'll see a small tag icon.
– Upon clicking this symbol, the "Activities on CV" section on the right side of the page will refresh to display "Tags on CV" that are currently being used for this profile.

– Add any new tag name, or alternatively type in any existing tag title that you think will be useful for your future searches. As always the drop-down list will provide you with relevant matches for faster tagging.


– Your tag has now been successfully added to the profile.
2) Deleting Tags:  Simple hit backspace on the keyboard, or click the small [x] symbol on your tag to remove it from the CV.


Note: Certain default tags are automatically associated with applicant profiles and cannot be removed, for e.g. candidate source.
Key Takeaways
With all these user-friendly upgrades, we are confident that our revamped Tagging experience will streamline your hiring! We can't wait for you to witness incredibly fast recruitment that delivers best results each time, all the time.
Contact Us


This enhancement is available for access to all Talentera customers. If you wish to learn more about this feature, please get in touch with your account manager as they will be happy to help.
If you'd like to speak with an expert to learn how Talentera can improve your company's recruiting processes, please get in touch.
Ammara Zubair