See What's New: Introducing Talentera's Recruiter Mobile App
10 May 2018
by Ammara Zubair

Array
(
    [0] => WP_Term Object
        (
            [term_id] => 102
            [name] => Enhancements
            [slug] => enhancements
            [term_group] => 0
            [term_taxonomy_id] => 102
            [taxonomy] => category
            [description] => 
            [parent] => 0
            [count] => 40
            [filter] => raw
            [cat_ID] => 102
            [category_count] => 40
            [category_description] => 
            [cat_name] => Enhancements
            [category_nicename] => enhancements
            [category_parent] => 0
        )

    [1] => WP_Term Object
        (
            [term_id] => 96
            [name] => Product Updates
            [slug] => product-updates
            [term_group] => 0
            [term_taxonomy_id] => 96
            [taxonomy] => category
            [description] => Product Updates
            [parent] => 84
            [count] => 160
            [filter] => raw
            [cat_ID] => 96
            [category_count] => 160
            [category_description] => Product Updates
            [cat_name] => Product Updates
            [category_nicename] => product-updates
            [category_parent] => 84
        )

)


Enhancements
Recruitment never slows down, and neither should your productivity. This is why we've launched the Recruiter Mobile App; exclusively built to help you keep up with work on-the-go, we're thrilled to provide you with an easy-to-use solution to acquire top talent with added speed and performance efficiencies.
Aligned with our mission of providing world-class recruitment technology, you can look forward to skipping stress, managing timelines, and enjoying a VIP experience with your talent pool, workflows and key hiring actions now accessible at your fingertips.
How Does Talentera's Recruiter Mobile App Set You Up For Success?
As a busy recruiter, time is of the essence and we're excited to bring supercharged applicant tracking power straight to the palm of your hand with an abundance of features:
1) Stress Free Set Up:
After installation, either enter your Talentera powered career portal URL or scan your QR code to instantly connect the app without the hassles of complicated set up and registration steps.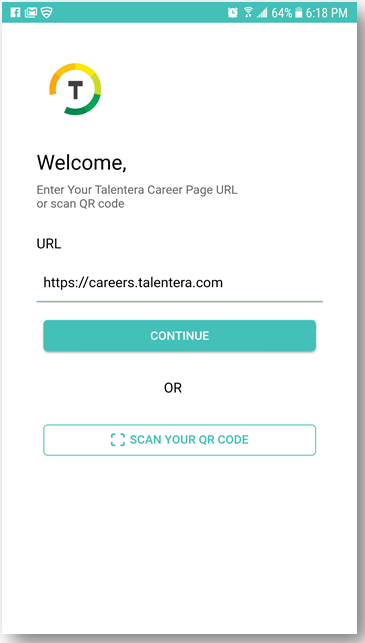 2) Recruit Your Superstar Candidates:
Swiftly search through your candidate pool using your preferred criterias and keywords, view CVs, and instantly engage with top talent using the contact details in the app.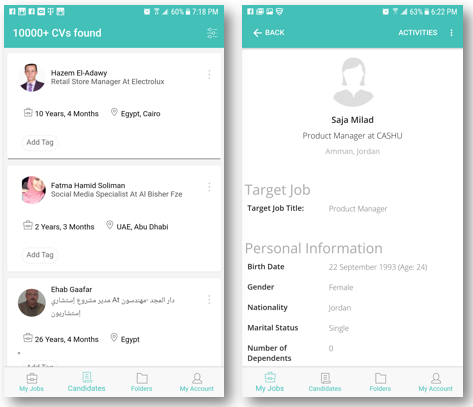 3)  Manage Your Talent Pipelines:
Label your favorite prospects with tags and notes for easy searchability, and add profiles to folders to ensure that your organization is always at its A game.
Speaking of "organization"- you can create folders to better categorize CVs and prioritize candidates of interest, in addition to collaborating with your team and decision makers by sharing them.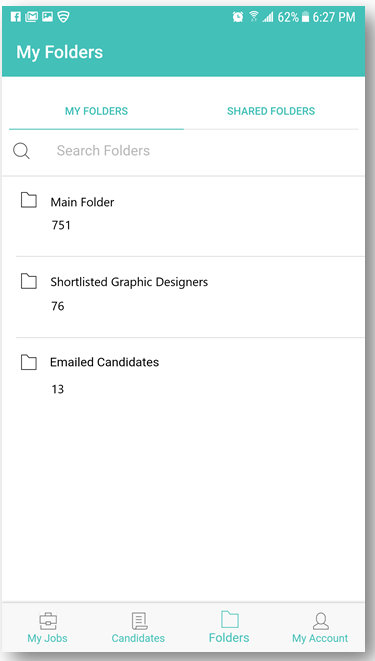 4) Track Your Applicant Activities:
Stay up-to-date with hiring progress; access details of applicant's activities including current status in the recruitment funnel, and keep the funnel activity in motion by progressing candidates to appropriate stages of your hiring cycle so that you can snag your star employee before a competitor does.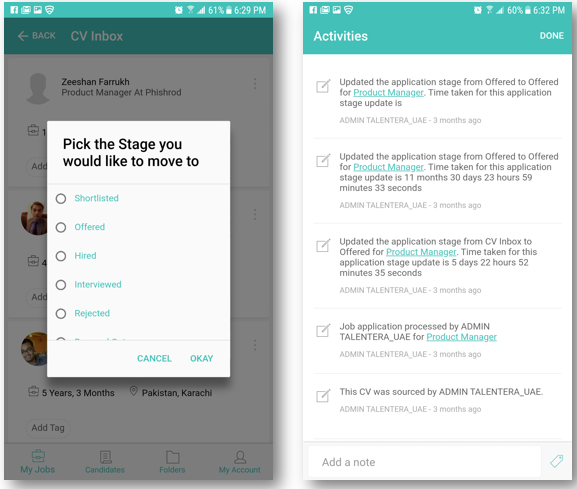 5) Manage Your Job Posts:
Keep your target audience updated with all current vacancies; you can access active and inactive jobs along with their associated details, view applicants, and even easily activate or deactivate jobs through the app.
Furthermore, get a visual summary of your hiring pipeline for each job by understanding volume of applicants in each recruitment stage.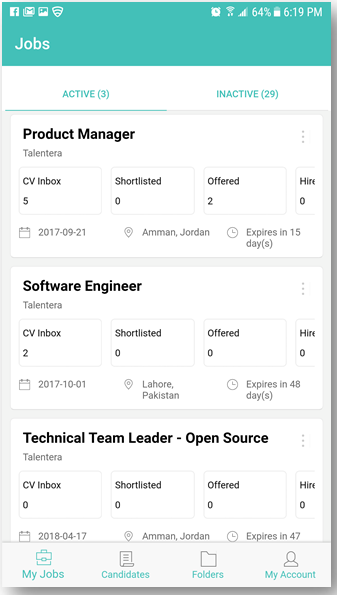 6) Manage Your Account:
For ultimate user convenience, you can change your email and password settings without the guesswork and back-and-forthing.
What's Next?
Go mobile with Talentera's Recruitment App today to reap the rewards of a strengthened employer brand and a candidate experience reinforced with brilliant responsiveness. The user-friendly interface is guaranteed to make life easier by enabling you to accomplish more in less time. Try it out and don't forget to share your feedback so that we can ensure that this solution remains tailored to your preferences.
To get started, please visit:
Let's Talk
This app is available for access to all Talentera customers. If you wish to learn more, please get in touch with your account manager as they will be happy to help.
If you'd like to speak with an expert to learn how Talentera can improve your company's recruiting processes, please get in touch.
Ammara Zubair