Smoother Requisitions Flow
28 Jun 2018
by Alina Majeed

Array
(
    [0] => WP_Term Object
        (
            [term_id] => 96
            [name] => Product Updates
            [slug] => product-updates
            [term_group] => 0
            [term_taxonomy_id] => 96
            [taxonomy] => category
            [description] => Product Updates
            [parent] => 84
            [count] => 160
            [filter] => raw
            [cat_ID] => 96
            [category_count] => 160
            [category_description] => Product Updates
            [cat_name] => Product Updates
            [category_nicename] => product-updates
            [category_parent] => 84
        )

)


Product Updates
Job requisitions and Hiring Approvals are integral aspects of a recruiter's job and we've made two updates to our Requisitions Module to ensure a smoother job-building experience for your recruitment team.
Enhancements to Requisition Flow
You can now find two new fields to the 'Create Requisition' page, Division and Job Profile.
These fields are connected to your Budget (if Budget Management is enabled) which means that if you opt to make the requisition within your budget, you will be required to choose a valid job profile to associate the requisition with.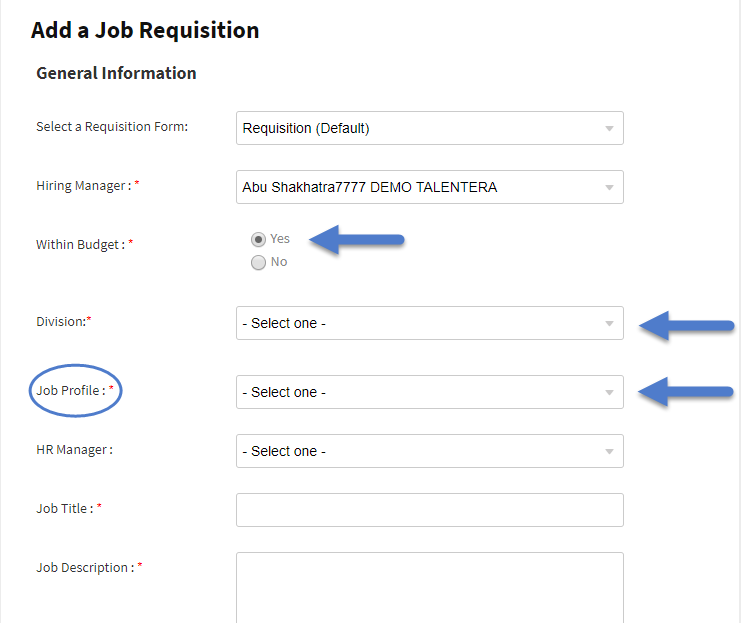 Adding Nationality to Requisition Settings
When adding approvers to your requisitions automatically, you can now set a Nationality rule to make certain nationalities go to their corresponding approvers.
---
This enhancement is available for access to all Talentera customers. If you wish to learn more about this feature, please get in touch with your account manager as they will be happy to help.
If you'd like to speak with an expert to learn how Talentera can improve your company's recruiting processes, please get in touch.
Alina Majeed