One-Click Invitations to Sourced Candidates
11 Aug 2017
by Alina Majeed

Array
(
    [0] => WP_Term Object
        (
            [term_id] => 102
            [name] => Enhancements
            [slug] => enhancements
            [term_group] => 0
            [term_taxonomy_id] => 102
            [taxonomy] => category
            [description] => 
            [parent] => 0
            [count] => 40
            [filter] => raw
            [cat_ID] => 102
            [category_count] => 40
            [category_description] => 
            [cat_name] => Enhancements
            [category_nicename] => enhancements
            [category_parent] => 0
        )

    [1] => WP_Term Object
        (
            [term_id] => 96
            [name] => Product Updates
            [slug] => product-updates
            [term_group] => 0
            [term_taxonomy_id] => 96
            [taxonomy] => category
            [description] => Product Updates
            [parent] => 84
            [count] => 160
            [filter] => raw
            [cat_ID] => 96
            [category_count] => 160
            [category_description] => Product Updates
            [cat_name] => Product Updates
            [category_nicename] => product-updates
            [category_parent] => 84
        )

)


Enhancements
How many times has it happened that you landed on a promising profile only to find parts of it incomplete?
It happens all the time for recruiters which pushes them to labor over sending personal emails to these candidates to complete their profiles.
With Talentera's simplified Candidate Invitation Flows, recruiters can ping candidates individually or in mass to invite them onto their online profiles. This action can be performed through three interfaces:
Send Invitation from the CV listing:
Hit the 'Actions' button on top of the CV Listing view and you'll see the option in the drop-down menu.
Clicking through to 'Invite to Complete Profile' will send a notification to the candidate who can then revert to the profile to make amendments.
Send Invitation from CV View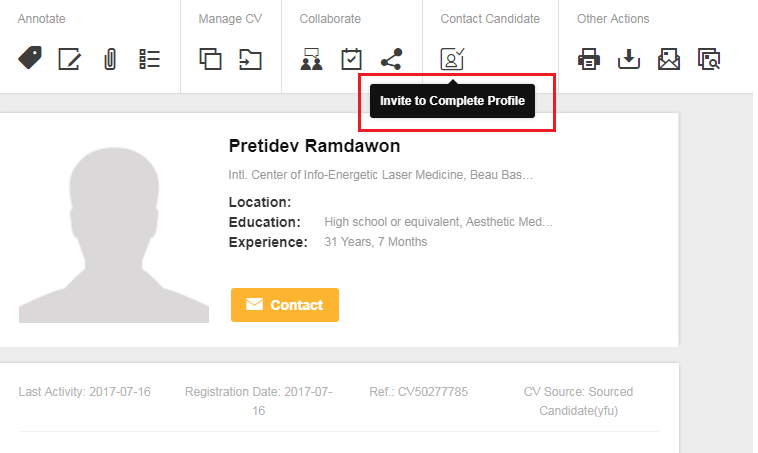 If you've already clicked on a profile, you can simply hit the 'Contact Candidate' button on the toolbar to notify the candidate.
Bulk Action
Found a group of candidates with incomplete profiles? Not a problem.
Simply choose the 'Contact Candidate' button on top of the CV listings page and add all the candidates that need a quick reminder to complete their profiles.
Make full use of this new feature release and never fret over incomplete profiles and chasing after candidates to fill them.
---
If you'd like to speak to an expert to learn how Talentera can improve your company's recruiting processes, please get in touch.
Alina Majeed