Moderated CV Reports and Cleaner Applicant Pools
17 Jan 2018
by Alina Majeed

Array
(
    [0] => WP_Term Object
        (
            [term_id] => 102
            [name] => Enhancements
            [slug] => enhancements
            [term_group] => 0
            [term_taxonomy_id] => 102
            [taxonomy] => category
            [description] => 
            [parent] => 0
            [count] => 40
            [filter] => raw
            [cat_ID] => 102
            [category_count] => 40
            [category_description] => 
            [cat_name] => Enhancements
            [category_nicename] => enhancements
            [category_parent] => 0
        )

    [1] => WP_Term Object
        (
            [term_id] => 96
            [name] => Product Updates
            [slug] => product-updates
            [term_group] => 0
            [term_taxonomy_id] => 96
            [taxonomy] => category
            [description] => Product Updates
            [parent] => 84
            [count] => 160
            [filter] => raw
            [cat_ID] => 96
            [category_count] => 160
            [category_description] => Product Updates
            [cat_name] => Product Updates
            [category_nicename] => product-updates
            [category_parent] => 84
        )

)


Enhancements
As your applicant pool grows larger, it becomes difficult to identify the profiles that have been reviewed against those that are still pending moderation. Adding CV tags and bookmarks is one way to organize moderated CVs in neat folders but wouldn't it be that much easier if all moderated CVs could just cluster into a report automatically without you having to move them around?
Talentera now comes with a brand new enhancement that allows just this in a new 'Moderated CVs Report' that you can find at the bottom of the navigation panel.
The report allows you to view all moderated CVs in one place which makes it easy to catch an overview of the applicants that have been reviewed for an opening.
With the report, you can filter results by date and CV status and can view all CVs that have been reviewed, accepted and rejected by you or your team members.
What's more, the report results can be exported to an excel spreadsheet to aid in customized reporting and further analysis.
In short, the Moderated CVs Report lets you:
– View all moderated CVs in one place.
– Filter by Date and Status.
– Export the report to an Excel sheet.
– View Total Reviewed, Total Accepted and Total Rejected CVs.
To further simplify the CV Moderation process, you can now accept or reject a CV directly from CV View which also adds it under the respective status in the Moderated CVs Report.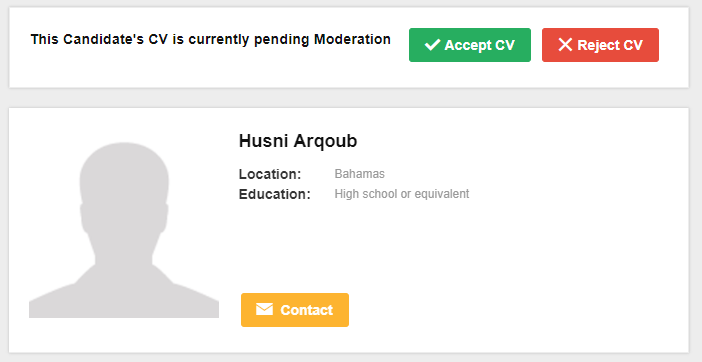 ---
This enhancement is available for access to all Talentera customers with CV Moderation module enabled. If you wish to learn more about this feature, please get in touch with your account manager as they will be happy to help.
If you'd like to speak to an expert to learn how Talentera can improve your company's recruiting processes, please get in touch.
Alina Majeed