Revamped Job Statuses for Recruiters' Relief
09 May 2018
by Alina Majeed

Array
(
    [0] => WP_Term Object
        (
            [term_id] => 96
            [name] => Product Updates
            [slug] => product-updates
            [term_group] => 0
            [term_taxonomy_id] => 96
            [taxonomy] => category
            [description] => Product Updates
            [parent] => 84
            [count] => 160
            [filter] => raw
            [cat_ID] => 96
            [category_count] => 160
            [category_description] => Product Updates
            [cat_name] => Product Updates
            [category_nicename] => product-updates
            [category_parent] => 84
        )

)


Product Updates
Recruiters are no less than project managers when it comes to closing vacancies. Each job vacancy requires meticulous planning, active management, rigorous evaluation and regular follow-ups before it gets filled. Reaching this ultimate goal, however, involves numerous stages across the recruitment funnel and each job post is often moved to a different status in the process.
To help recruiters maintain maximum control over the jobs that they create and closely monitor their performance, we have revamped the jobs dashboard and recruitment reports with intuitive job status legends that illustrate the progress of each job opening on your career portal. This release also allows users to filter job posts based on status, perform relevant actions to further that status and view job and recruitment process reports tailored to the job statuses that you want to see.
Here's everything that the Job Statuses Launch entails:
New Statuses in 'My Jobs'
Previously only limited to categorizing jobs as either 'Open' or 'Closed', the new module allows a lot more flexibility with categories like:
– Open
– Filled
– Canceled
– On Hold
– Draft
These categories are displayed in the left pane where the 'Job Status Filter' can be used to filter out jobs that specifically fall within them.

This section also allows users to filter applications within each job stage based on the source of the application. So for instance, if you'd like to view the number of applications received against an open job that were sourced specifically from the Bayt job board, you can check 'Open' in the Job Status Filter and 'Bayt.com' in the Sourcing From filter and voila, the numbers will be right in front of you; broken down by recruitment stage. This further helps narrow down your search and determining which job performed better across which sourcing stream.
Job Status Legends
The new statuses are reflected in the Job Dashboard as well and we have also included the Job Status Legend to help users understand what each status means. In both 'My Jobs' and the 'Job Dashboard', we added an icon along with some Onboarding to guide recruiters on what these statuses truly mean: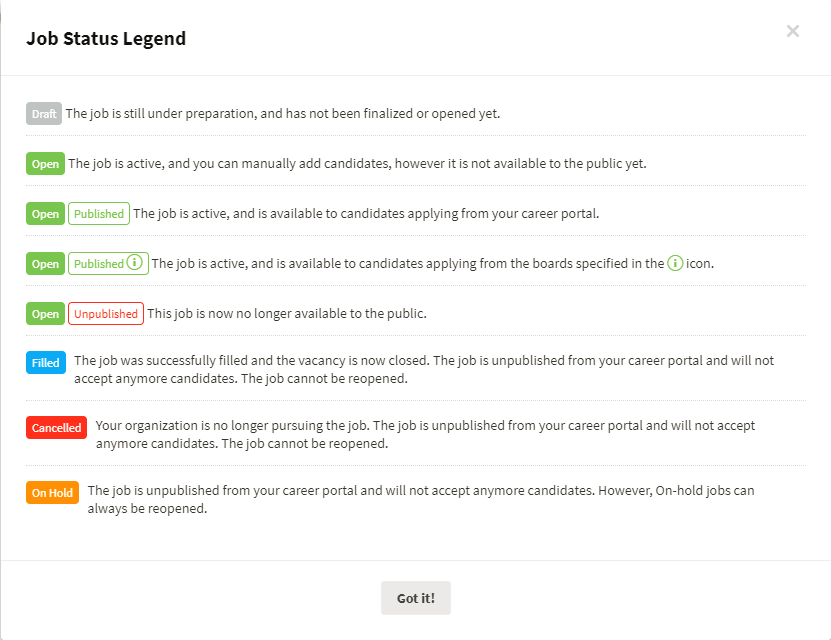 Relevant Actions on the Jobs Module
Users can perform a host of actions on the jobs using the buttons at the top right corner of each job listing. These actions are specific to the status that the job is at so for instance, a job with an 'On Hold' status displays 'Re-Open' as the primary suggested action to be taken. Similarly, the shortcut action for an 'Open' job allows it to be closed and a closed job can quickly be archived.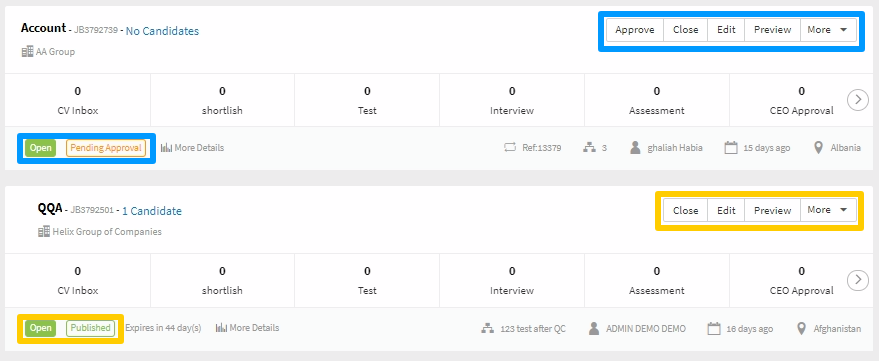 Jobs can also be edited, previewed, shared and tagged directly from the listings page. This one-stop action interface makes it that much easier to manage jobs without jumping back and forth between multiple tabs to get the task done.
Job Posting
Recruiters can post new jobs and create new job templates directly from 'My Jobs'. This feature particularly comes in handy when you're in a rush because you only need to fill the 'Job Title' field to save that job under a 'Draft' status. You can then return later on to edit the job and complete all fields to change its status to 'Open' and start the sourcing process.
Reporting
We, at Talentera, are committed to bringing transparency and measurability to recruitment processes. With this enhancement, you can access Job Reports and Recruitment Process Reports directly from the Jobs Dashboard. These reports have been equipped with multi-select checkboxes which allow recruiters to choose between the job statuses that matter most for their reporting thereby making sure that your reports show precisely what you want to see.

With our Job Statuses Enhancement, we are hopeful that users will become one step closer to better managing and tracking their job posts. If you'd like more details on this feature update, feel free to contact your account manager as they would happy to help.
If you'd like to learn more about Talentera as an end-to-end recruitment solution, you can contact us here.
Alina Majeed