Cancel, Pause and Resume Requisitions
16 May 2018
by Alina Majeed

Array
(
    [0] => WP_Term Object
        (
            [term_id] => 96
            [name] => Product Updates
            [slug] => product-updates
            [term_group] => 0
            [term_taxonomy_id] => 96
            [taxonomy] => category
            [description] => Product Updates
            [parent] => 84
            [count] => 160
            [filter] => raw
            [cat_ID] => 96
            [category_count] => 160
            [category_description] => Product Updates
            [cat_name] => Product Updates
            [category_nicename] => product-updates
            [category_parent] => 84
        )

)


Product Updates
Managing multiple job requisitions is all in the day's work for any recruiter. For this reason, Talentera's superior Requisitions & Hiring Approvals Module helps recruiters generate requisitions, set reminders for tasks and assign follow-ups, among other things. However, we understand that not all requisitions get to be approved immediately and some might end up getting canceled along the way. Here are two updates that cater to these possibilities:
Placing Requisitions On Hold
As the first step to hiring is creating a requisition to be approved internally, sometimes delays, difficulties or changes can affect these requisitions. That's why we now allow placing requisitions on hold, to allow you to postpone any hiring until things clear up.
While the requisition is on hold, you can cancel it, or reopen it depending on your situation, so no progress will be lost!
Not sure if your pursuing hiring for a certain position? Place requisitions On Hold until things clear up with the hiring process. Here's how…
You can find the On Hold option in the More actions menu:
Choose a reason to put the requisition on hold:
If you ever wish to resume the requisition request, simply click the Resume option: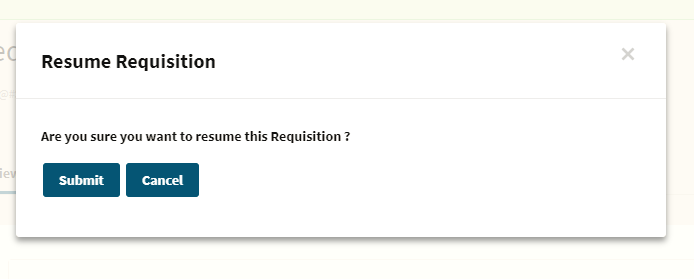 Your requisition will successfully be put on hold with all the data intact, ready to be set active as soon as you deem fit.
Setting Predefined Cancellation Reasons for Requisitions
In those grave times when you have to cancel a requisition, you no longer have to manually type in a reason for the cancelation. You can now choose from a pre-defined set of reasons that are unique to your company or choose from our default list of standard ones.
If you want every cancelation to be substantiated with a reason, go to the Requisition Settings in the Admin Panel.
Choose your default cancelation settings up next: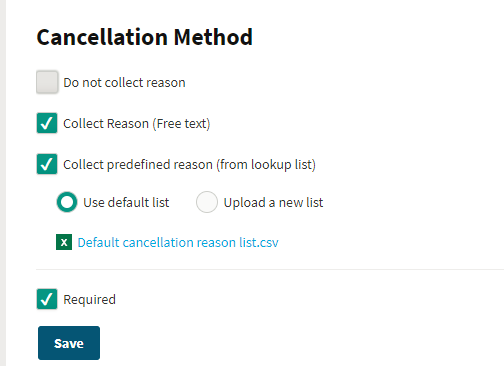 If you have your own list of cancelation reasons, upload a CSV sheet of reasons you have collected, and the rest is on us, we'll add them to your system.
And don't worry, we provide you with a default list of reasons ourselves too. All you have to do is hit the 'Use default list' option:
Once you've completed these settings, you will see a list of reasons upon canceling a requisition, depending on the options you chose: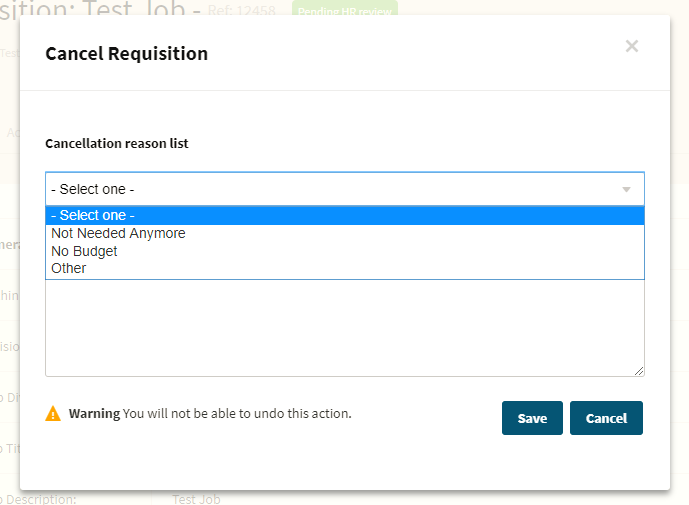 ---
This enhancement is available for access to all Talentera customers. If you wish to learn more about this feature, please get in touch with your account manager as they will be happy to help.
If you'd like to speak with an expert to learn how Talentera can improve your company's recruiting processes, please get in touch.
Alina Majeed