Blacklist CVs by National IDs
24 Oct 2017
by Alina Majeed

Array
(
    [0] => WP_Term Object
        (
            [term_id] => 102
            [name] => Enhancements
            [slug] => enhancements
            [term_group] => 0
            [term_taxonomy_id] => 102
            [taxonomy] => category
            [description] => 
            [parent] => 0
            [count] => 40
            [filter] => raw
            [cat_ID] => 102
            [category_count] => 40
            [category_description] => 
            [cat_name] => Enhancements
            [category_nicename] => enhancements
            [category_parent] => 0
        )

    [1] => WP_Term Object
        (
            [term_id] => 96
            [name] => Product Updates
            [slug] => product-updates
            [term_group] => 0
            [term_taxonomy_id] => 96
            [taxonomy] => category
            [description] => Product Updates
            [parent] => 84
            [count] => 160
            [filter] => raw
            [cat_ID] => 96
            [category_count] => 160
            [category_description] => Product Updates
            [cat_name] => Product Updates
            [category_nicename] => product-updates
            [category_parent] => 84
        )

)


Enhancements
Sounds a little harsh doesn't it? But blacklisting some candidates can become a necessity with some possible reasons being:
1) The candidate being a dismissed employee
2) A candidate's problematic visa status
3) The candidate having failed a background/security check
With this feature release, Talentera users can blacklist candidate profiles by National ID numbers. Here's how it's done:
1. Access the "Blacklisted CVs Management" page from the Admin Panel:
2. You have the option to Add/Append a new CSV file of National IDs that you wish to blacklist, Replace the current file, or Export the current list of Blacklisted National IDs:
3. To import a new list, download the "Template File", add the National IDs to be Blacklisted to the sheet, and upload it:
4. Map the National ID Column from your imported CSV file to the Blacklisted National IDs Field in the portal:
With this, the candidate profiles with matching National IDs will be updated with a 'Blacklisted' tag added to their CV as shown below: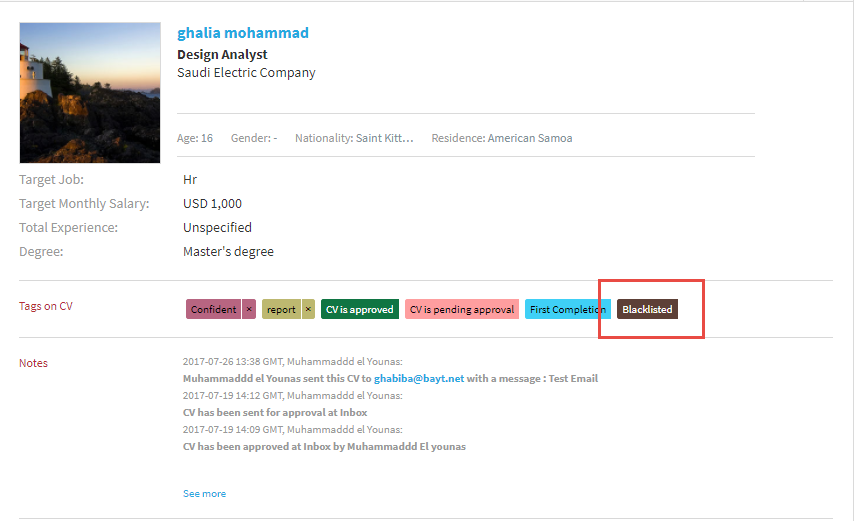 With this enhancement, recruiters are relieved from individually searching for profiles that need to be blacklisted as mass imports allow them to make these updates in bulk. Additionally, the clearly visible tag keeps everyone who reviews the CV up to speed with the profile's status. This update aims to save recruiters' and line managers' time and effort so that they don't waste time reviewing and vetting a candidate who does not have the chance of progressing further across the hiring process.
---
This enhancement is available for access to all Talentera customers. If you wish to learn more about this feature, please get in touch with your account manager as they will be happy to help.
If you'd like to speak to an expert to learn how Talentera can improve your company's recruiting processes, please get in touch.
---
Alina Majeed