Top 5 Career Portals in the Middle East and Why They're Great
08 Sep 2017
by Alina Majeed

Array
(
    [0] => WP_Term Object
        (
            [term_id] => 88
            [name] => Articles
            [slug] => articles
            [term_group] => 0
            [term_taxonomy_id] => 88
            [taxonomy] => category
            [description] => Articles
            [parent] => 84
            [count] => 82
            [filter] => raw
            [cat_ID] => 88
            [category_count] => 82
            [category_description] => Articles
            [cat_name] => Articles
            [category_nicename] => articles
            [category_parent] => 84
        )

)


Articles
Companies work hard on their job ads because through them, they cast their first impression on prospective candidates. But these ads merely get people to notice the vacancy. To convert these people into applicants, your job ad needs to take them to a juncture that gets them more invested in your company and in the job. What best serves as this juncture? Your Careers Site, without a doubt. All your recruitment marketing efforts will boil down to how optimized your careers site is in converting job-seekers into applicants and for this reason, a well-designed Careers site acts as the pivot of your Employer Branding strategy.
Here are the 5 leading career portals from the Middle East that excel in both aesthetics and functionality facilitating a memorable applicant experience:
1) Emirates Foundation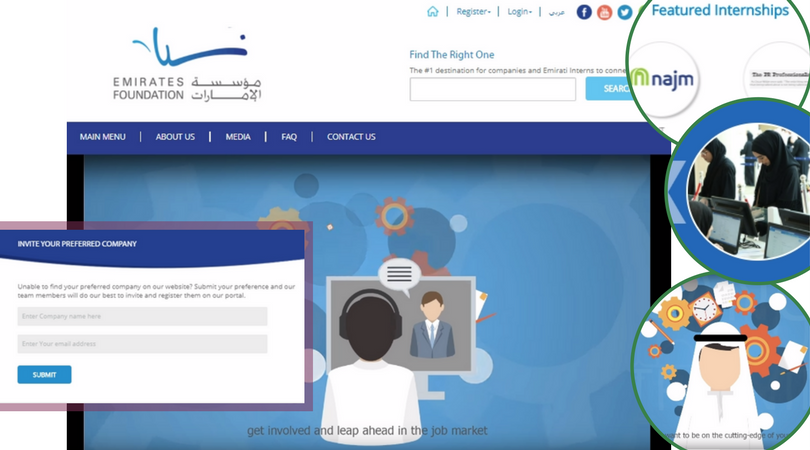 This career portal works for many reasons. It has a multilingual capacity so users can easily switch between Arabic and English when browsing. The social media icons right at the top take visitors to the company's social media pages and the slideshow containing an introductory video and corporate event photos offers a solid welcoming experience to visitors. With 'About Us', 'Media' and 'Contact Us' sections, job-seekers can easily navigate to more information on the Emirates Foundation's history and global presence. Their FAQ section resolves common queries within seconds allowing visitors to reach out to company reps for novel questions, making their interactions far more relevant and engaging.
The entire layout is designed for a smooth user experience with tiles allowing job-seekers to choose from an array of internship categories. A user manual makes it even simpler to post CVs and apply advanced searches and adds that extra oomph to an already impeccable portal.
Check out their career portal here.
2) Basamh Group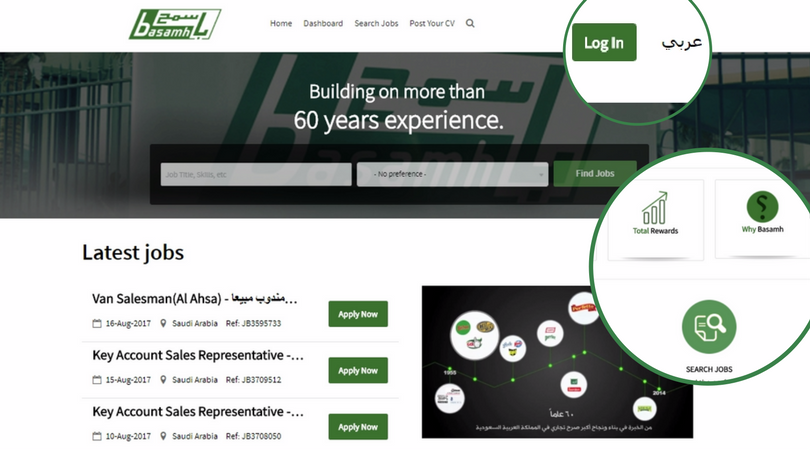 Basamh Group's career portal sets the tone within the first glance by highlighting the company's impressive 60-year experience in the banner that hosts their job search box. The search box is a crucial feature on its own because it allows job-seekers to quickly look through openings in their areas of interest which makes their activity on the website far more meaningful. The job board that lists all openings expands into a section with detailed job descriptions against each ad along with one-click application buttons. They also have a short video introduction to the company which is a far more engaging way of communicating with job-seekers compared to regular text blocks. The portal also contains buttons that lead job-seekers to their Mission & Vision sections.
A whole section is dedicated to the Compensation and Rewards granted to Basamh employees which further elucidates why the company is a great place to build a career. A logo display of the brands and companies that fall under Basamh Group makes it easy for job-seekers to relate to the more identifiable brands of the group which makes the parent company that much more appealing.
Check out their career portal here.
3) Rotana Hotels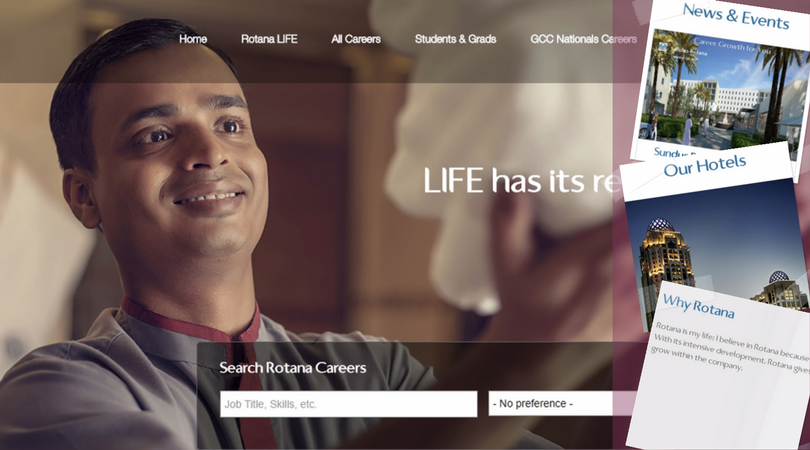 Apart from its beautiful design, Rotana's career portal heroes its employees which makes for its most distinguishing factor. The portal immediately exposes you to smiling faces of its delighted employees from various job roles through a large photo gallery slider. You see them once again at the bottom of the page sharing their stories on the work life at Rotana through employee testimonials. This employee centricity lends Rotana's site an unmatched credibility because you hear about their merits from people experiencing them directly.
The website also allows job-seekers to glance into their work life through a dedicated 'Life' section that showcases their elaborate employee-engagement programs. It also covers vacancies and career paths for students and graduates separately, making the website visitors' experience relevant and informative. User experience is further enhanced by an advanced job search box that enables job-seekers to reach relevant job openings within seconds by applying a variety of filters; some examples being desired location, career level and product. To keep visitors tuned into the portal, the website covers sections on Rotana's PR & Media and a service vertical covering all their resorts and services in detail. The portal also has social icons for quick routing of visitors towards their social media accounts.
Check out their career portal here.
4) Sunbulah Group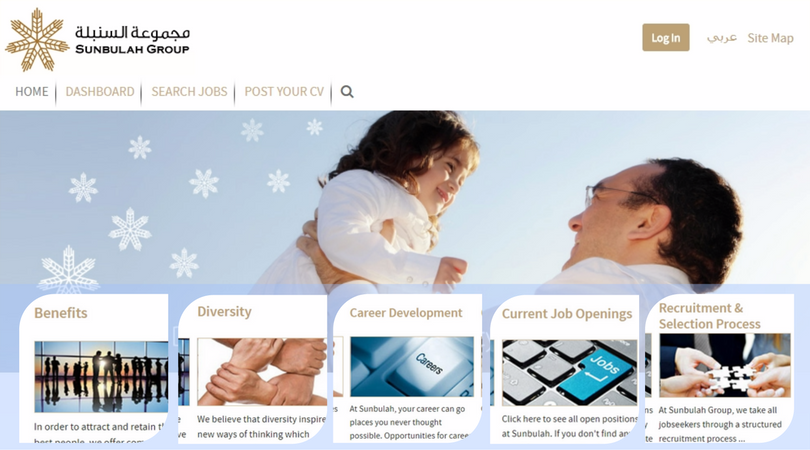 Sunbulah Group's career portal has a sitemap which quickly shows the hierarchy of flow of their website, allowing visitors to find their way around it with ease. Their career portal also has a multilingual capacity which allows them to reach both local and international job-seekers. Sunbulah Group's career portal efficiently delivers relevant and valuable information to its visitors by including thumbnails on Benefits, Diversity, Career Development, Current Openings and their Recruitment Process. These thumbnails direct visitors to specific landing pages that assist them in learning about how the company fulfills aspects that matter the most when applying for a new job. By offering this value and convenience, the site quickly develops authority and bolsters Sunbalah Group's employer brand in the eyes of its prospective candidates.
The portal also contains a strip of the group's brand logos, making its name instantly more recognizable. Additional links to its Products Page, Distributor Network, Contact form and Mission Statement keep the careers site connected to Sunbulah Group's official site allowing visitors to easily navigate to it if they wish to learn more about the company prior to applying.
Check out their career portal here.
5) Gandour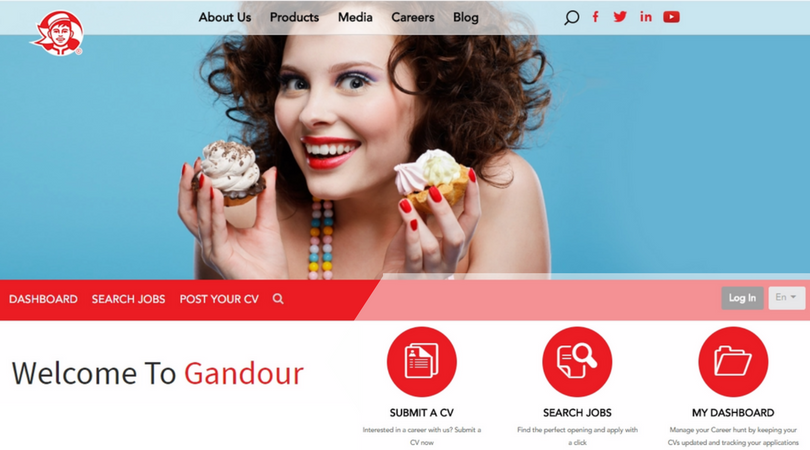 With Gandour's career portal, you can instantly tell two things:
The company belongs to the confectionery industry
They have a rich corporate culture
Their vibrant career portal has fun visuals, a welcome note, an informative snippet on the work life at Gandour and a header that hosts tabs that let visitors navigate to their Products, Media section, and Blog. Having your blog linked to your career site is an often times neglected resource that can yield enormous benefit. It provides an avenue for employers to deliver compelling content to its visitors thereby lengthening their stay and building a stronger connection with them. This ultimately gets more people to apply for the company's vacant jobs which gives recruiters more credentialed candidates to choose from. Gandour nails the idea by making their career portal look like something that demands to be explored rather than a 'one-time visit and forget' experience.
The portal makes applying for jobs a breeze by including quick buttons that let job-seekers drop CVs, search for jobs and browse through their personal dashboard once they've created a profile. With a job search button that expands to show all open vacancies with job descriptions, job-seekers can easily sift through the listings to find the one that matches their expertise. The smooth application flow further eases job application and sharing.
Check out their career portal here.
Final Thoughts
When it comes to a career portal, it's essential that it:
Resonates corporate values
Lends a window into the corporate culture
Answers why job-seekers should apply to the company
The career portals for these five companies cover all these aspects and also excel at delivering a winning applicant experience which makes them the most efficient and popular ones of the lot in the Middle East.
With each of these portals having its own unique standout features, there are many lessons to learn from them to get your career portal in shape. So, get exploring and take notes because, with Talentera, your outstanding career portal solution is right around the corner.
Alina Majeed