5 Best MENA Company Careers Pages To Learn From
20 Jun 2018
by Ammara Zubair

Array
(
    [0] => WP_Term Object
        (
            [term_id] => 88
            [name] => Articles
            [slug] => articles
            [term_group] => 0
            [term_taxonomy_id] => 88
            [taxonomy] => category
            [description] => Articles
            [parent] => 84
            [count] => 77
            [filter] => raw
            [cat_ID] => 88
            [category_count] => 77
            [category_description] => Articles
            [cat_name] => Articles
            [category_nicename] => articles
            [category_parent] => 84
        )

    [1] => WP_Term Object
        (
            [term_id] => 84
            [name] => Resources
            [slug] => resources
            [term_group] => 0
            [term_taxonomy_id] => 84
            [taxonomy] => category
            [description] => Resources
            [parent] => 0
            [count] => 113
            [filter] => raw
            [cat_ID] => 84
            [category_count] => 113
            [category_description] => Resources
            [cat_name] => Resources
            [category_nicename] => resources
            [category_parent] => 0
        )

)


Articles
Gone are the days of getting fussy over talent, in today's candidate-driven market, the talent gets to pick you. The topic of employer branding has been a recurring focal point in boardrooms because attracting the right prospects cannot be left to chance. Instead, businesses must proactively remodel their recruitment strategy to win the war for talent.
According to a study about employer branding, 56.7% of businesses expressed recruitment as one of their top challenges. Companies are struggling to strengthen their reputation, appeal and communication with prospects to promote recruitment efforts, and provide an incentive for them to apply for available vacancies. Being unable to use employer messaging to pitch their firm's enticing attributes such as culture, growth opportunities, community involvement, etc. means zero visibility to job seekers- a huge mistake resulting in financial, talent and productivity losses.
Why Employer Branding Matters
Accepting the necessity of recruitment marketing, some businesses are taking employer branding by the reins to motivate their target audience to apply for their jobs. Using personalized careers pages to build exposure, attract applicants, showcase company values, share vacancies and more- this is the first step to prioritize candidate experience as the hub of your recruitment efforts.
Want more proof? A recent candidate survey led to findings that a whopping 65% of talent relies on an engaging careers website to drive their interest in an organization, a powerful indicator of applicant experiences shaping companies talent acquisition success.
Committed to delivering exciting candidate journeys as a recruitment asset, let's take a look at our favorite 5 mobile-friendly branded career pages making prospects fall in love with their employer brand at first glance.
1) Pepsi Careers (Jordan)
Here's why we like it:  Who can understand a job seeker's perspective better than an existing employee at Pepsi? Using this approach as their superpower, Pepsi's career page aims to inspire by letting their existing talent take the spotlight as company ambassadors. Using quick interviews highlighting what these executives love about their job, the culture , and values they have in common with the employer- there's clear emphasis on winning attributes for prospects to explore, and aspire for.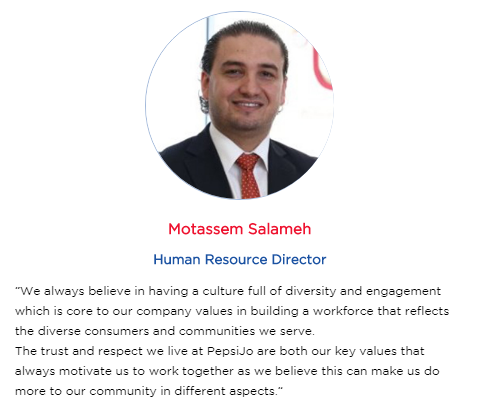 Providing a straightforward dashboard to search for jobs, submit CVs, and even save searches- this multilingual (Arabic and English) career website makes the applicant experience seamless, informative, engaging and sincere.
2) SEDCO (Saudi Arabia)
Here's why we like it: SEDCO really lets their employer brand shine bright! Showcasing their awards earned as employer-of-choice, in addition to providing an overview of benefits and an awesome culture to look forward to – there is a lot of motivation for job seekers to submit their CVs without delay.
Taking pride in their values, SEDCO's career website has shared the right content to communicate their mission, and defines clear expectations regarding their goals that they want their existing and future employees to support.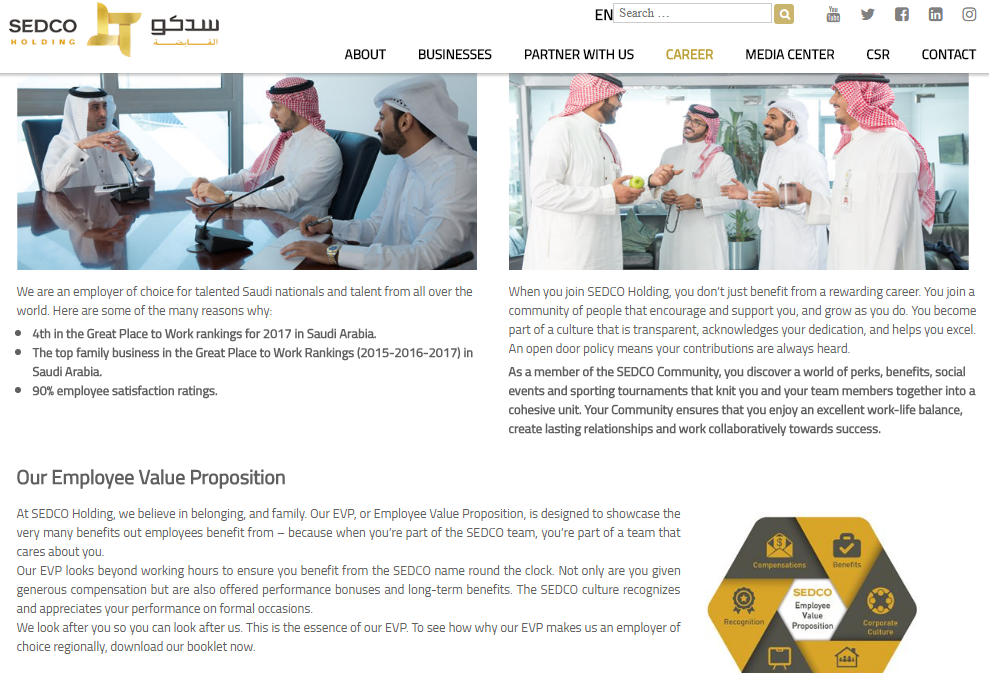 With an opt-in mailing list to stay updated regarding new vacancies and business achievements, complemented with easy to find links to social media channels, this careers page has the right features to secure its status as a powerful hiring platform.
3) Al-Sayer Franchising Company (Kuwait)
Here's why we like it: Maintaining a positive public image is essential to attract best talent. Al-Sayer Franchising Company fulfills this objective by using their careers website to highlight a remarkable culture, a happy and diverse workforce, and their respect for their employees as their "valued assets."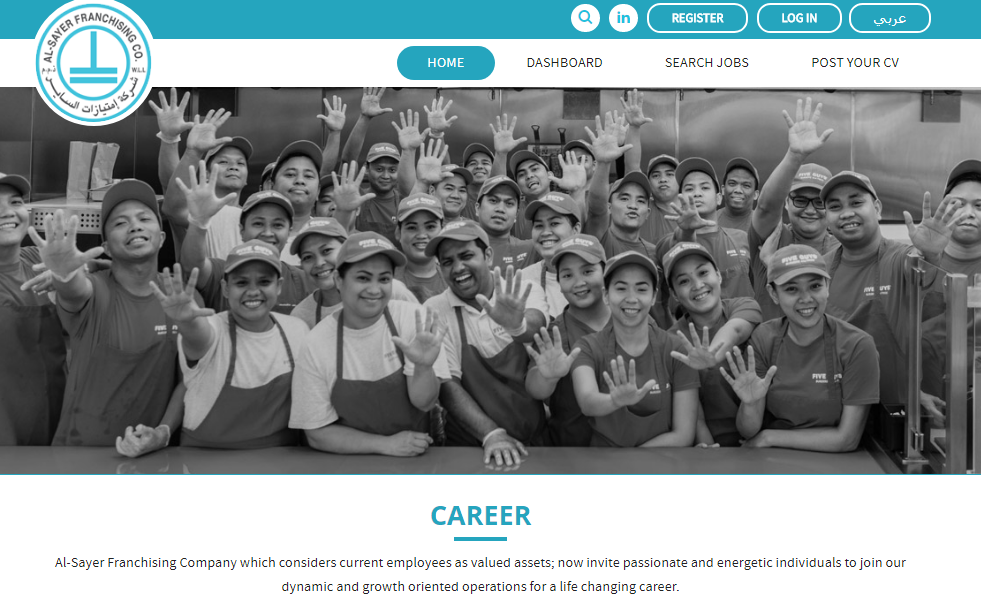 Using content that pitches competitive salaries, advancement opportunities, and high employee satisfaction, their focus on attracting and retaining talent is both persuasive and sends an uplifting message. Moreover, the empowering personal note from the HR Director adds to the authenticity, and in turn humanizes the entire brand.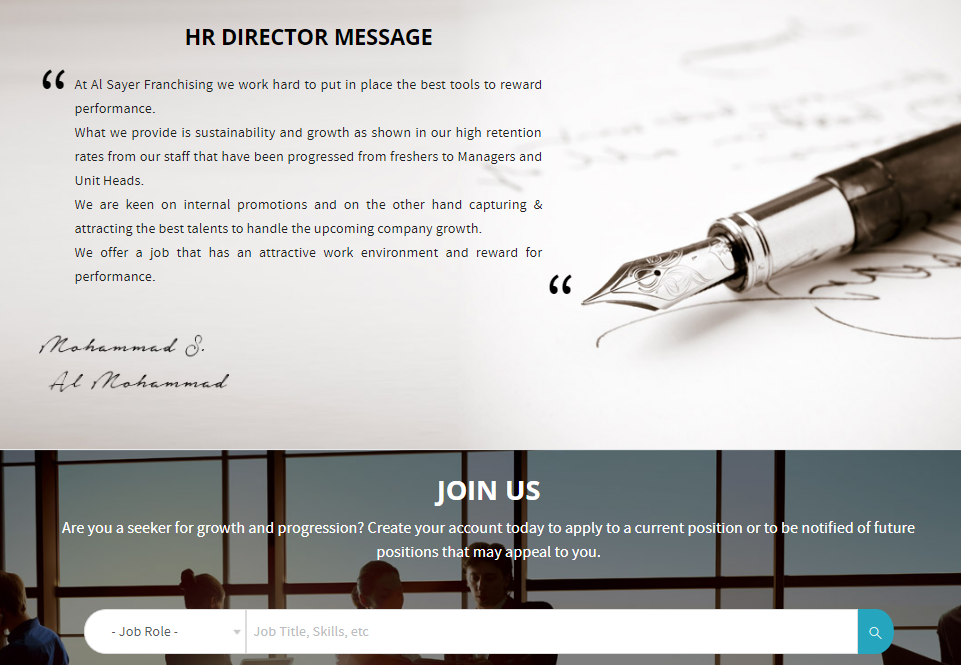 Offering opt-in email alerts for vacancies, a quick job search toolbar, and multilingual language features (Arabic and English), the Al-Sayer Franchising Company provides the core pillars of a well executed modern candidate journey.
4) SSH (Kuwait)
Here's why we like it: Using a look that differentiates them from the crowd, SSH has a competitive edge in terms of design and content strategy. Their useful company statistics promote transparency, meanwhile the effort put towards cultivating lasting relationships with the audience is made evident by their emphasis on vision, workforce, and history of operations.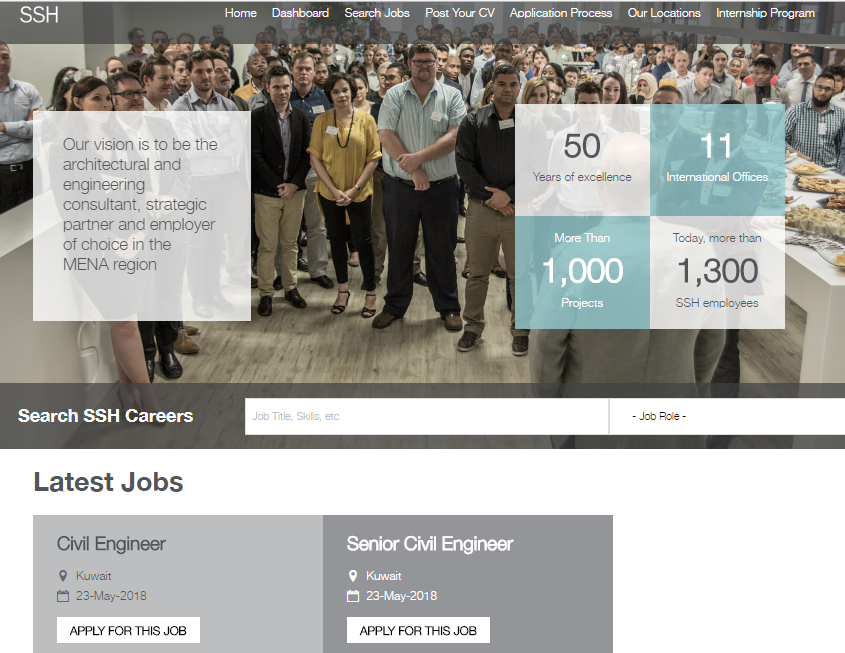 With easy to navigate information and engaging visuals, they have their content categorized into "Latest Jobs", "Nationalization", "News & Updates" and "Meet Our People" segments to make presentation simple, clear yet high-quality and expressive.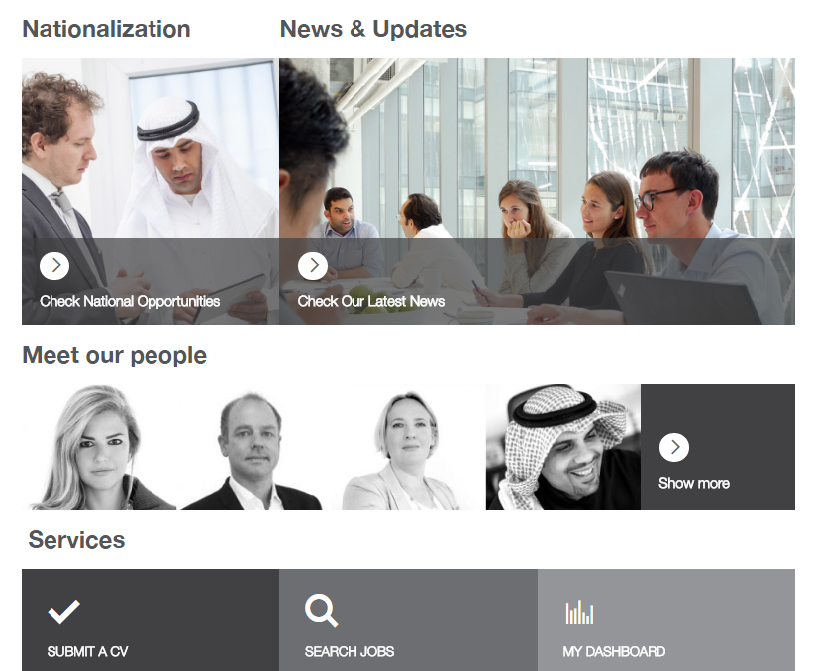 Adding to the excellent user experience, the careers page has featured jobs that can be applied for with the click of a button, a quick job search bar, and dashboard access that enables CVs updating and application tracking- all features that candidates appreciate.
5) Rotana (UAE)
Here's why we like it: Striking an instant connection with prospects, the Rotana careers page speaks directly with the candidate using a masterful mix of encouraging pictures reflecting happy employees, workforce diversity, and quick links to all information that a visitor may find useful.
With special categories for "All Careers", "Students & Grads", and "GCC National Careers", the emphasis on meeting candidate needs proves attention to detail. Also incorporating a listing of hotel branches, news, events, career opportunities and even employee testimonials, the Rotana's careers website gives a lot of reasons for prospects to consider working there.
Projecting a dynamic personality to attract talent, meanwhile ensuring an effective candidate journey, quick access to information and a nifty job search bar- Rotana strengthens their employer brand and makes it easy to explore opportunities.
Key Takeaways
Your careers website is the first place prospects will search and explore to determine their interest in your organization- make sure you give them an experience to remember! Using a well designed and engaging careers page can help attract candidates, promote your culture, communicate your expectations, and even boost retention without a hefty price tag. Remember to ensure multi-lingual functionality, mobile-friendliness, opt-in mailing lists, social media links and exceptional content to see your organic traffic skyrocket.
Optimizing your company's careers page should be your priority this year, harness its potential right and watch your vacancies get filled in no time.

About Talentera
We strive to build a top-class online recruitment solution that will help organizations from every discipline to recruit smarter, faster and easier. A product of Bayt.com, which leads the job site market in the Middle East region, we are privileged to have served thousands of employers of every shape and size in the region and it is this 14 years of rich online recruitment experience that we have poured into Talentera.
If you'd like to speak with an expert to learn how Talentera can improve your company's recruiting processes, please get in touch.
Ammara Zubair