Workflow Simplified: Import Divisions With Ease
20 Aug 2018
by Ammara Zubair

Array
(
    [0] => WP_Term Object
        (
            [term_id] => 96
            [name] => Product Updates
            [slug] => product-updates
            [term_group] => 0
            [term_taxonomy_id] => 96
            [taxonomy] => category
            [description] => Product Updates
            [parent] => 84
            [count] => 160
            [filter] => raw
            [cat_ID] => 96
            [category_count] => 160
            [category_description] => Product Updates
            [cat_name] => Product Updates
            [category_nicename] => product-updates
            [category_parent] => 84
        )

    [1] => WP_Term Object
        (
            [term_id] => 84
            [name] => Resources
            [slug] => resources
            [term_group] => 0
            [term_taxonomy_id] => 84
            [taxonomy] => category
            [description] => Resources
            [parent] => 0
            [count] => 114
            [filter] => raw
            [cat_ID] => 84
            [category_count] => 114
            [category_description] => Resources
            [cat_name] => Resources
            [category_nicename] => resources
            [category_parent] => 0
        )

)


Product Updates
What is it?
Thriving businesses carry with them the inevitable responsibility of growing divisions. More staffing and more output translates into a large number of divisions within the organization to keep all work organized with a clear scope of duty for all.
To address this need, Talentera's brand new enhancement has simplified adding new divisions to save time, and enable clients to focus on what matters most- awesome talent acquisition.
Why does it matter?
With no easy way to add divisions in bulk, there was a recurring dilemma of manual data entry we identified while working with clients. Whether they chose to manage this task independently or request our team for assistance to create hundreds of divisions for them, accomplishing this goal was time intensive and involved a lot of back forth communication that we wanted to eliminate from their to-do list.
How does it work?
Talentera does all the work (that you once had to) so you can import a sheet full of divisions to your career portal- all with a few quick clicks of your mouse:
1) Go to Divisions Management in "Admin Panel", and click on "Import" divisions.

2) You will now be required to upload a sheet of your divisions to the system.


(Psst. Don't stress about formatting your sheet correctly, our team provides you with a template to make this task seamless.)
3) Select your file and click "Upload".

4) Lastly, map the columns in your sheet to their value in the system to ensure that your information is displayed correctly to your team. For example, you can map your "Division" column to our "Division Name (English)" value.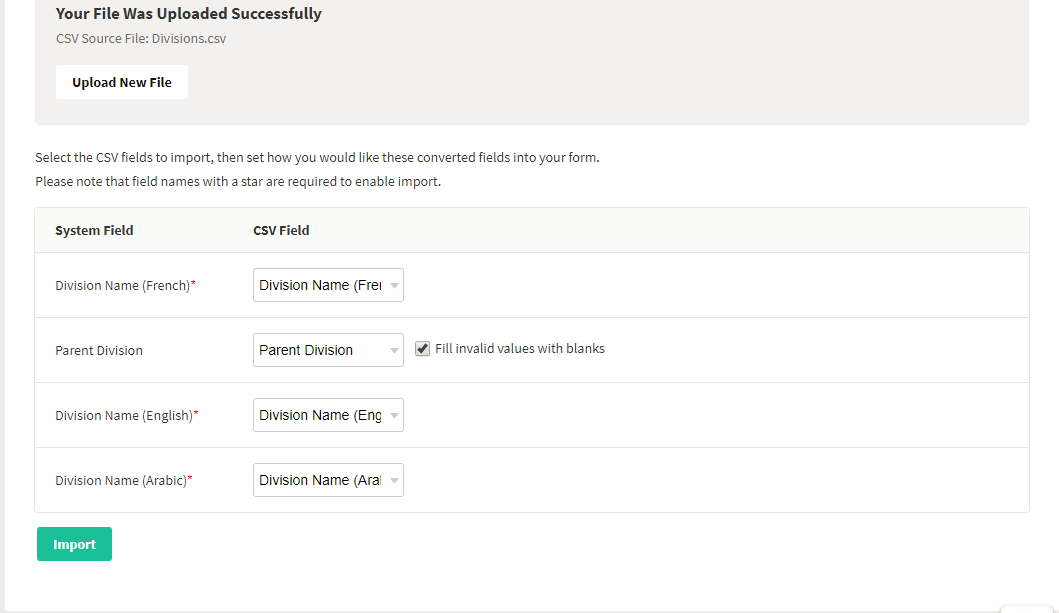 5) Once you've mapped the values, and clicked "Import", the divisions will be parsed into the system and added to your Divisions Management page.
How easy was that? When we talk about simplifying workflows, we truly mean it. Start importing your divisions, whether in dozens or hundreds, the swift importing feature is bound to leave you impressed!
Who gets it?
This enhancement is available for access to all Talentera customers. If you wish to learn more about this feature, please get in touch with your account manager as they will be happy to help.
If you'd like to speak with an expert to learn how Talentera can improve your company's recruiting processes, please get in touch.
Ammara Zubair