Recruit Better With Revamped Tests
22 Oct 2018
by Ammara Zubair

Array
(
    [0] => WP_Term Object
        (
            [term_id] => 96
            [name] => Product Updates
            [slug] => product-updates
            [term_group] => 0
            [term_taxonomy_id] => 96
            [taxonomy] => category
            [description] => Product Updates
            [parent] => 84
            [count] => 160
            [filter] => raw
            [cat_ID] => 96
            [category_count] => 160
            [category_description] => Product Updates
            [cat_name] => Product Updates
            [category_nicename] => product-updates
            [category_parent] => 84
        )

    [1] => WP_Term Object
        (
            [term_id] => 84
            [name] => Resources
            [slug] => resources
            [term_group] => 0
            [term_taxonomy_id] => 84
            [taxonomy] => category
            [description] => Resources
            [parent] => 0
            [count] => 114
            [filter] => raw
            [cat_ID] => 84
            [category_count] => 114
            [category_description] => Resources
            [cat_name] => Resources
            [category_nicename] => resources
            [category_parent] => 0
        )

)


Product Updates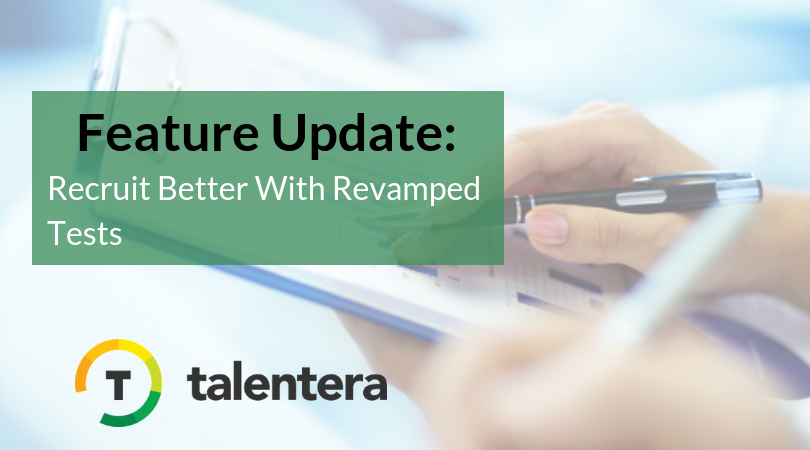 What is it?
Assessing talent for their skills helps identify how effective are your prospects at doing their job. Accelerating hiring, retention, and determining best candidates, Talentera has revamped its testing so that you can always be confident about your hiring decisions.
With an updated UI and addition of new features, assigning tests is more intuitive, organized, and best of all- simple to manage.
Why does it matter?
With hundreds of job applications being received for every available vacancy, recruiters have to above and beyond the usual screening procedures to determine which applicants shine brighter than the others. This is why the improved tests have been given a makeover to be more visually exciting, useful, easy to assign and even more fun to manage.
How does it work?
Assigning tests to candidates is absolutely hassle free, allowing Talentera clients to accomplish a lot more in a lot less time:
1) Select your candidate, and click on "Invite to take test."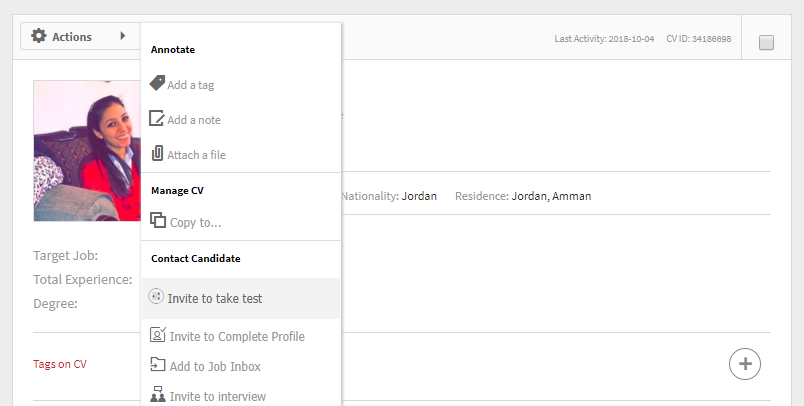 2) Various categories of available tests in your portal will be displayed. The "All" category option allows users to choose from all tests in the system.
Once you've selected your category, you can choose as many tests as desired at once, and even assign multiple tests to the same candidates in one go. Even more dynamic is the convenience of being able to choose multiple tests from different categories.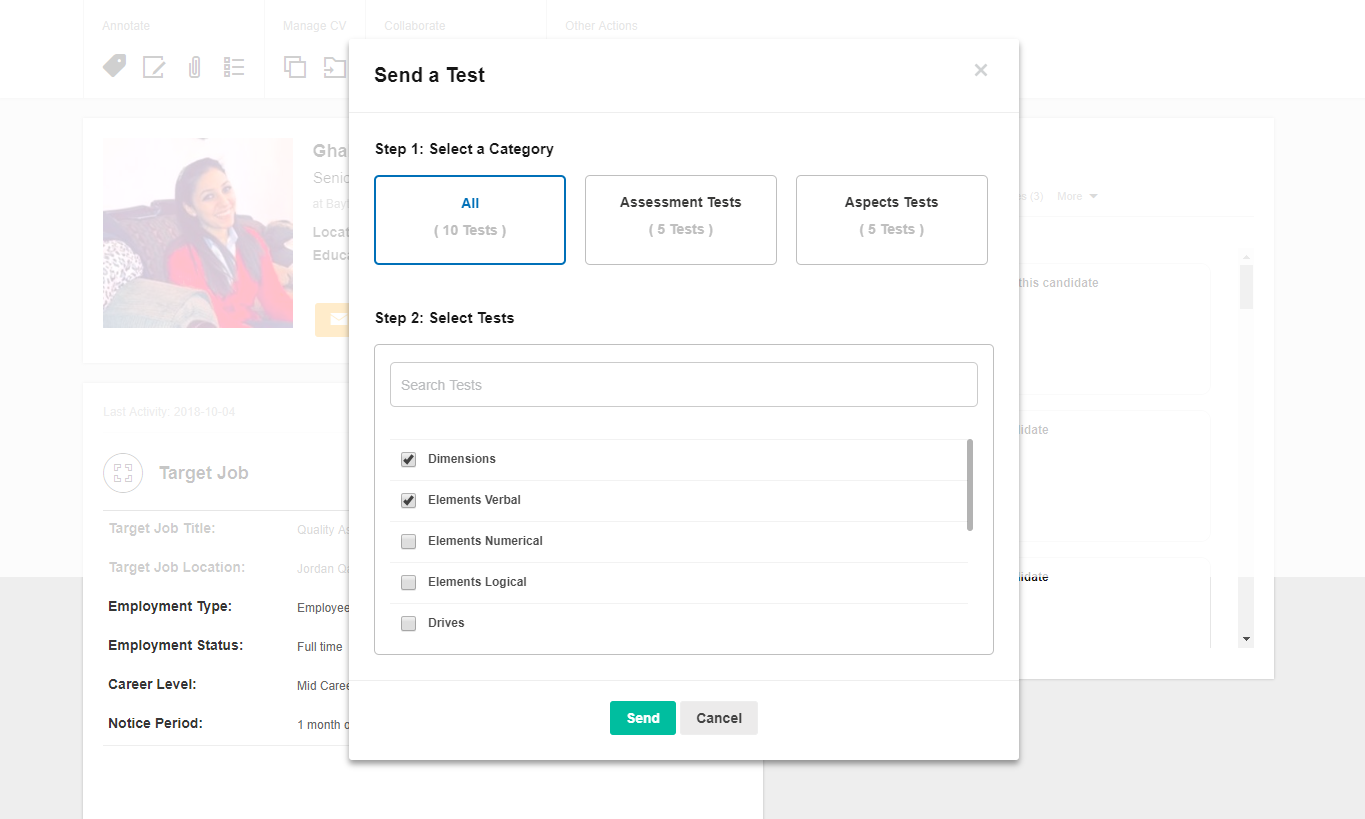 Alternatively, users can also search for tests directly with the new search bar as well.
3) After selecting tests, click the "Send" button. That's it, time for you to sit back and await submissions.
Similarly, managing tests like a pro with the improved functionality and redesigned elements is yet another perk for Talentera clients to look forward to, let's dive deeper into this:
1) We've added the number of questions, and test time for each test to give more insight into what you're sending out to the candidate.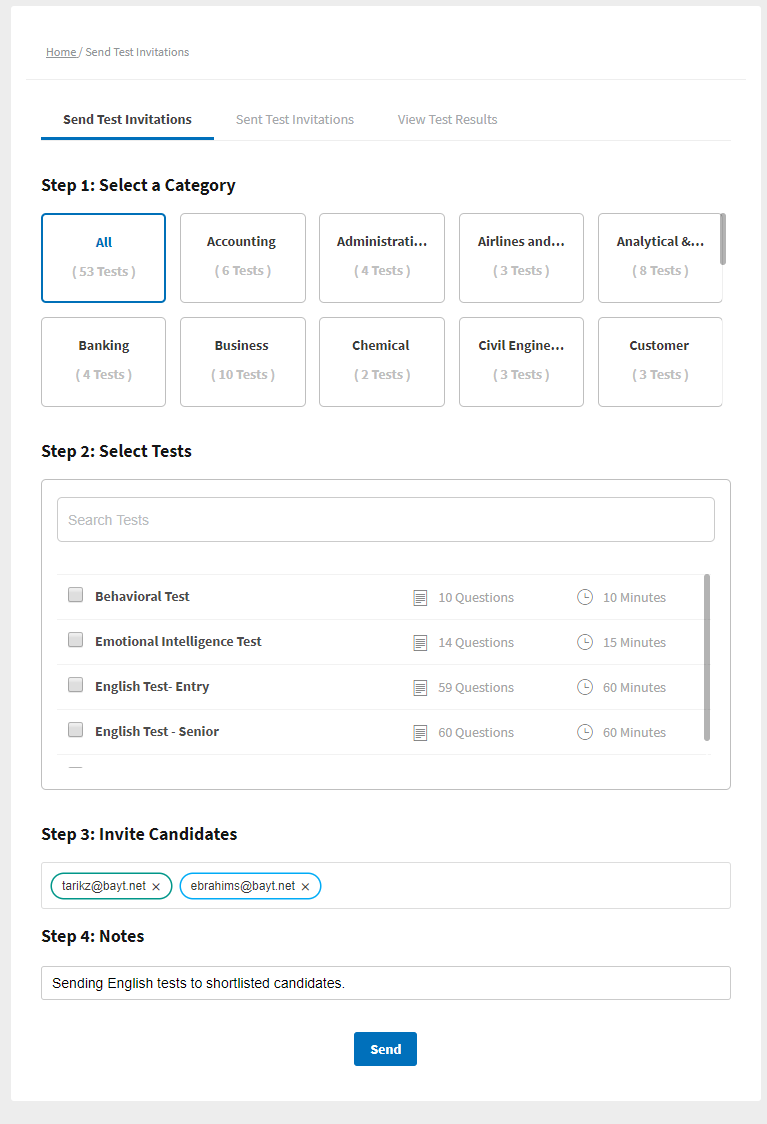 2) After choosing the desired tests, you can add the emails of the candidates you are sending the tests to. Emails will be added as chips; once you've chosen who to send the tests to, you can add any notes you'd like to view later on as well.
Once done, simply click "Send".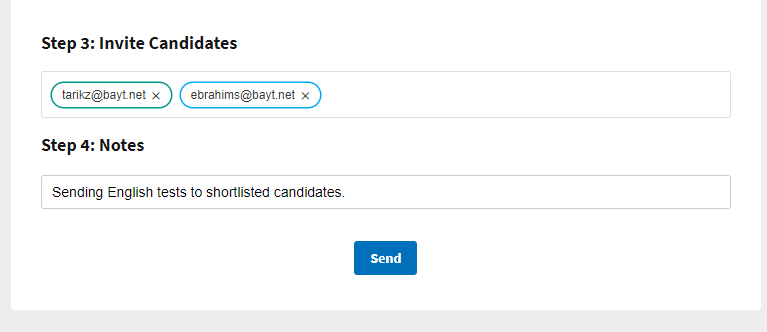 Rejoice! You can officially tick off assessments from your task list, the tests are now on their way to the candidates.
Who gets it?
This enhancement is available for access to all Talentera customers. If you wish to learn more about this feature, please get in touch with your account manager as they will be happy to help.
If you'd like to speak with an expert to learn how Talentera can improve your company's recruiting processes, please get in touch.
Ammara Zubair