Brand New Tags Overview Report
22 Mar 2018
by Naveed Ahmed

Array
(
    [0] => WP_Term Object
        (
            [term_id] => 102
            [name] => Enhancements
            [slug] => enhancements
            [term_group] => 0
            [term_taxonomy_id] => 102
            [taxonomy] => category
            [description] => 
            [parent] => 0
            [count] => 40
            [filter] => raw
            [cat_ID] => 102
            [category_count] => 40
            [category_description] => 
            [cat_name] => Enhancements
            [category_nicename] => enhancements
            [category_parent] => 0
        )

    [1] => WP_Term Object
        (
            [term_id] => 96
            [name] => Product Updates
            [slug] => product-updates
            [term_group] => 0
            [term_taxonomy_id] => 96
            [taxonomy] => category
            [description] => Product Updates
            [parent] => 84
            [count] => 160
            [filter] => raw
            [cat_ID] => 96
            [category_count] => 160
            [category_description] => Product Updates
            [cat_name] => Product Updates
            [category_nicename] => product-updates
            [category_parent] => 84
        )

)


Enhancements
CV Tags are a useful tool that help you categorize candidates over their strengths, memorable qualities and essential soft skills. They make it easy to collaborate with the whole recruitment team over talent profiles and make it that much easier to search for relevant candidates that are tagged with your required qualities. However, with so many users applying so many tags across hundreds of CVs, it's easy to lose track of all the tags that are floating around.
Wouldn't it be great to have a quick summary of the most commonly used tags? And maybe a set of filters that show you their breakdown against jobs and workflow stages? Say no more, because we have you covered. Talentera's sparkling new Tags Overview Report is here to the rescue!
To use the feature, navigate to the Reports tab in the Navigation Menu, and choose Tags Overview Report:
The report will expose you to a bar chart depicting the top ten used tags in your portal, along with Tagged Date, Nationality, and Job Posting filters:
You can customize your search to required job postings and nationality to identify candidates that are tagged with the labels that you are looking for.
If you'd like to prepare a custom report instead, the module helps you out with that as well. You can generate your own tags report by clicking Create New Report which will open a modal that allows you to:
– Add a name to your report.
– Select the tags to be included in this report.
– Breakdown the tags by Jobs or Workflow Stages.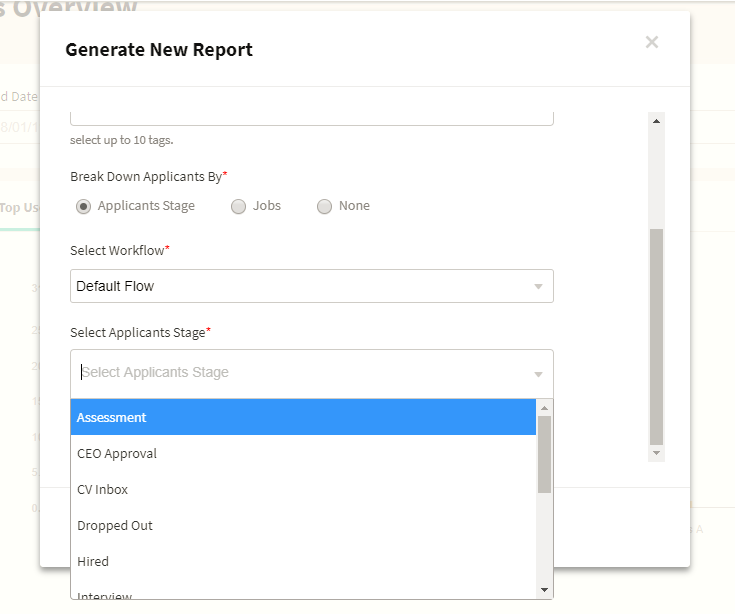 The results from these reports can be exported by hitting the 'Export' button making it possible for you to perform further analyses and share them with your team.
---
This enhancement is available for access to all Talentera customers. If you wish to learn more about this feature, please get in touch with your account manager as they will be happy to help.
If you'd like to speak with an expert to learn how Talentera can improve your company's recruiting processes, please get in touch.
Naveed Ahmed