New Access Controls: Locked CVs Permission
16 Oct 2018
by Ammara Zubair

Array
(
    [0] => WP_Term Object
        (
            [term_id] => 96
            [name] => Product Updates
            [slug] => product-updates
            [term_group] => 0
            [term_taxonomy_id] => 96
            [taxonomy] => category
            [description] => Product Updates
            [parent] => 84
            [count] => 160
            [filter] => raw
            [cat_ID] => 96
            [category_count] => 160
            [category_description] => Product Updates
            [cat_name] => Product Updates
            [category_nicename] => product-updates
            [category_parent] => 84
        )

    [1] => WP_Term Object
        (
            [term_id] => 84
            [name] => Resources
            [slug] => resources
            [term_group] => 0
            [term_taxonomy_id] => 84
            [taxonomy] => category
            [description] => Resources
            [parent] => 0
            [count] => 114
            [filter] => raw
            [cat_ID] => 84
            [category_count] => 114
            [category_description] => Resources
            [cat_name] => Resources
            [category_nicename] => resources
            [category_parent] => 0
        )

)


Product Updates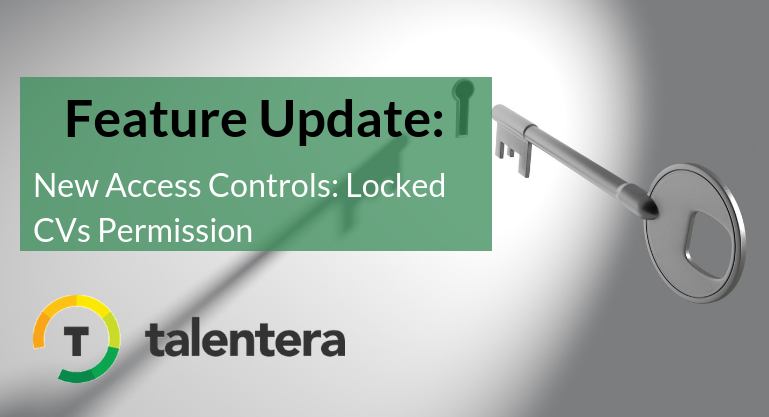 What is it?
When you hire for positions through your career portal, the new employee will now gain access to the backend information including notes and evaluations on their CVs from the recruiters perspective (from the time prior to being hired).
To keep this content private, Talentera's new update takes privacy up a notch by launching the new locked CVs permission to proactively restrict access from unauthorized users. Admins and recruiters with the locked CVs permission will enjoy the ability to link a user's job-seeker profile (CV) with their recruiter profile, thus always keeping confidential information in the right hands.
Why does it matter?

Hiring great talent is an awesome milestone to celebrate, but along comes the responsibility of restricting new employees from accessing notes/evaluations added to their CVs by now-colleagues to avoid any unnecessary friction. Even though your new employees will be able to still search and view their job-seeker CV, they will instead have a limited view of the CV stating it to be locked.


How does it work?
Locking CVs to protect all recruiter comments is effortless, simply follow these 4 quick steps:
1) Click on "User Management" under the Admin Panel.
2) Add the CV ID or profile ID to the new sub user account (Note: Admin or recruiter must have the locked CVs permission).

3) Your new employee will now be unable to access any notes other recruiters added to their CV. They will instead have a limited view, with a message informing them that the CV is locked.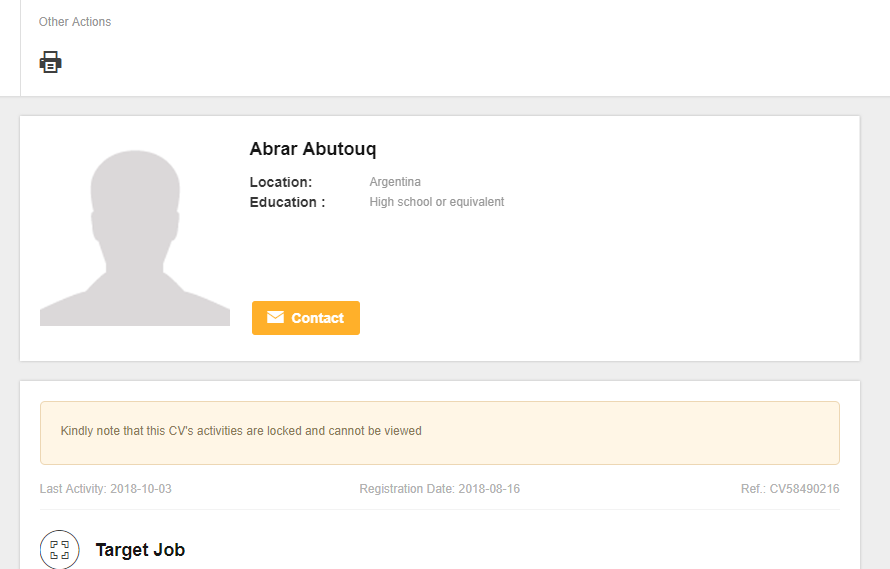 Bid farewell to the days of internal conflict and unwanted information sharing, hiring feedback and evaluations will now always stay safe and secure with Talentera's new access controls.
Who gets it?
This enhancement is available for access to all Talentera customers. If you wish to learn more about this feature, please get in touch with your account manager as they will be happy to help.
If you'd like to speak with an expert to learn how Talentera can improve your company's recruiting processes, please get in touch.






Ammara Zubair