Meet Talentera's New Customized User Permissions
12 Jul 2018
by Ammara Zubair

Array
(
    [0] => WP_Term Object
        (
            [term_id] => 96
            [name] => Product Updates
            [slug] => product-updates
            [term_group] => 0
            [term_taxonomy_id] => 96
            [taxonomy] => category
            [description] => Product Updates
            [parent] => 84
            [count] => 160
            [filter] => raw
            [cat_ID] => 96
            [category_count] => 160
            [category_description] => Product Updates
            [cat_name] => Product Updates
            [category_nicename] => product-updates
            [category_parent] => 84
        )

    [1] => WP_Term Object
        (
            [term_id] => 84
            [name] => Resources
            [slug] => resources
            [term_group] => 0
            [term_taxonomy_id] => 84
            [taxonomy] => category
            [description] => Resources
            [parent] => 0
            [count] => 114
            [filter] => raw
            [cat_ID] => 84
            [category_count] => 114
            [category_description] => Resources
            [cat_name] => Resources
            [category_nicename] => resources
            [category_parent] => 0
        )

)


Product Updates
What is it?
There's more awesome news for Talentera clients! Managing user permissions is now effortless so you can take advantage of better control and customization over information made available to team members. Sophisticated permissions make it easy to assign special privileges to selected users across roles management, requisition settings, hiring approval settings and candidate selection flow so your company can enjoy the perks of better visibility and monitoring.
Why does it matter?
Not all users need full access to all recruitment and candidate selection related information. Being able to assign specific permissions to user roles ensures that crucial information is kept safe and confidential, and is only shared via authorized user permissions with recruiters and executives involved in driving hiring decisions forward.
How does it work?
The user permissions can be customized across 4 areas:
1) Roles Management:
Users with this permission can add, edit and manage roles to make changes to their accessible functions (for e.g. agency management, budget management, assign tests etc.)
– To assign or edit access levels for roles, go to Admin Panel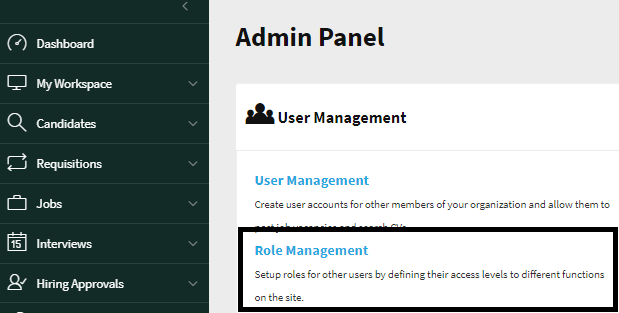 – Click on Role Management to edit/delete existing role, or create a new role altogether
2) Requisition Settings:
Users with this permission can access the Requisition Settings page to manage requisitions across the system.
– Go to Admin Panel, click on Requisition Settings and select Edit Approvers to edit as desired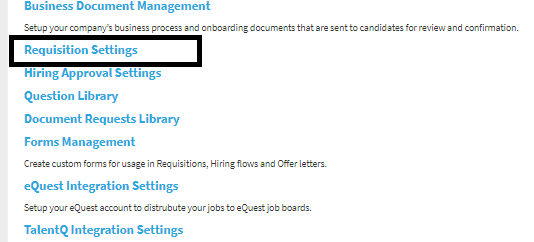 3) Hiring Approval Settings:
Users with this permission can access the Hiring Approval Settings page to manage how Hiring Approvals are dealt with across the system.
– Go to Admin Panel, click on Hiring Approval Settings to update the Hiring Manager and job division preferences.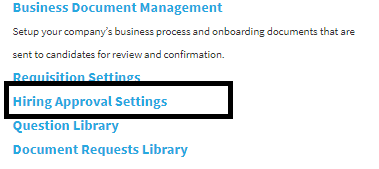 4) Candidate Selection Flow:
Users with this permission can access the Manage Candidate Selection Flow page to edit and manage workflows to ensure that candidate-selection stages match your company's recruitment process.
– Go to Admin Panel, click on Manage Candidate Selection Flow and update the candidate selection workflow as desired.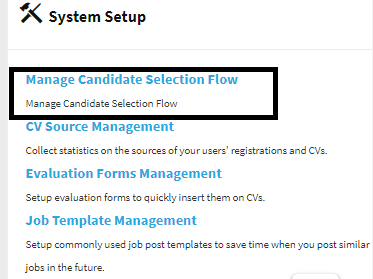 Managing customized user permissions will allow you to exercise more control over various permissions to remove unnecessary information sharing. Provide full or restricted access- the choice is entirely yours.
Who gets it?
This enhancement is available for access to all Talentera customers. If you wish to learn more about this feature, please get in touch with your account manager as they will be happy to help.
If you'd like to speak with an expert to learn how Talentera can improve your company's recruiting processes, please get in touch.
Ammara Zubair