Introducing Interview & Time Slot Cancellation
16 Oct 2018
by Ammara Zubair

Array
(
    [0] => WP_Term Object
        (
            [term_id] => 96
            [name] => Product Updates
            [slug] => product-updates
            [term_group] => 0
            [term_taxonomy_id] => 96
            [taxonomy] => category
            [description] => Product Updates
            [parent] => 84
            [count] => 160
            [filter] => raw
            [cat_ID] => 96
            [category_count] => 160
            [category_description] => Product Updates
            [cat_name] => Product Updates
            [category_nicename] => product-updates
            [category_parent] => 84
        )

    [1] => WP_Term Object
        (
            [term_id] => 84
            [name] => Resources
            [slug] => resources
            [term_group] => 0
            [term_taxonomy_id] => 84
            [taxonomy] => category
            [description] => Resources
            [parent] => 0
            [count] => 113
            [filter] => raw
            [cat_ID] => 84
            [category_count] => 113
            [category_description] => Resources
            [cat_name] => Resources
            [category_nicename] => resources
            [category_parent] => 0
        )

)


Product Updates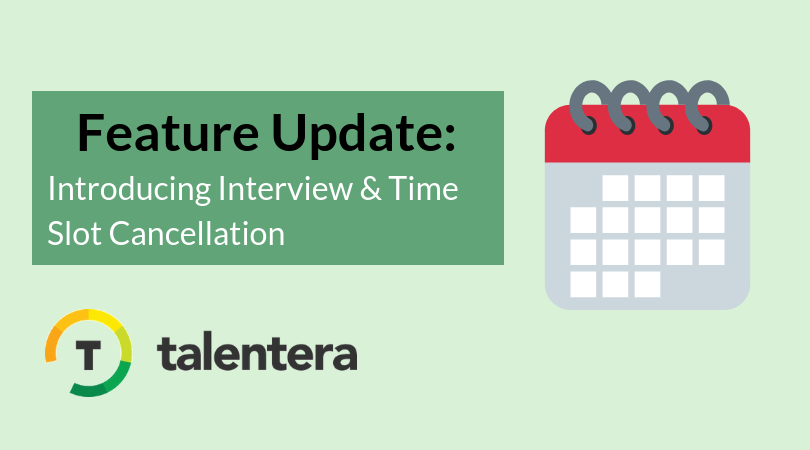 What is it?
You may have scheduled an interview with a candidate and had your calendar marked off to make room for an exciting conversation. Everything is on track, till unforeseen circumstances  come up causing you to be unavailable, or maybe you have second thoughts about the talent's potential to be a good hire.
It is situations like these that quick interview cancellation is a critical need, and can help save immense time and inconvenience for prospects and interviewers alike. Talentera's new update allows recruiters to email the candidate informing them of the canceled interview and booked slot in a matter of seconds.
Why does it matter?
From personal emergencies to finding unexpected exceptional talent that's a perfect fit, cancelling a specific time slot for an interview that was scheduled with a candidate can become a necessity for recruiters. Now Talentera clients have the flexibility to promptly alert the prospects about the change in plans by being able to email them a notification informing them of the canceled interview.
Recruiters can mention a rescheduled time and date, or just let recipients know that they'll get back to them as soon as possible with more information. This timely and helpful exchange of communication will improve candidate experience, and enable the interviewer to instead make this session available for other candidates if needed.
How does it work?
You're practically a minute away from becoming a pro. Let's get started:
1) Select "Interviews" From Dashboard; next click on "Interview Management."
2) A list of interview sessions will be displayed. Now click on "View Calendar" for any Interview/ Time slot you'd like to cancel.

3) Click on the Interviewee Name, and then on "Cancel Booking".
4) You can choose to send a cancellation notification to the candidate.  Select Send or Don't Send, and click ok.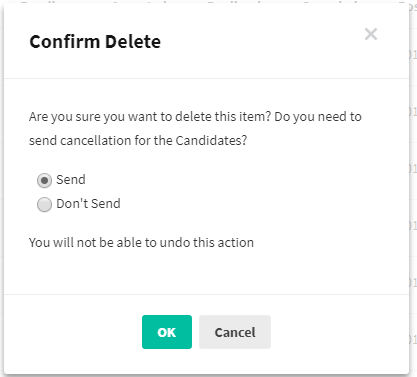 5) If you do decide to send an interview cancellation email, you can always use a saved letter template to automate the process. Also, do remember to check the "Make the slot available" option if you'd like other candidates to be able to book this time slot instead.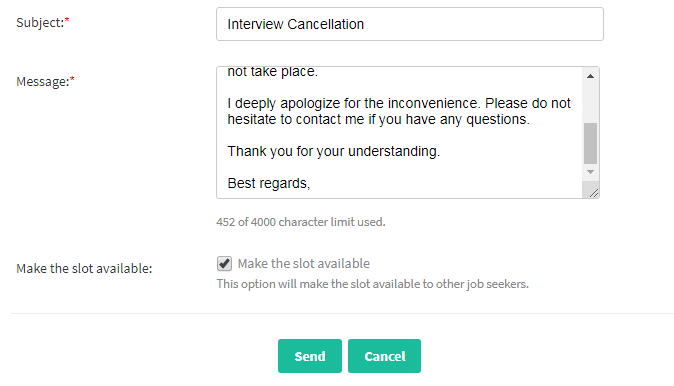 Lastly, don't forget to click "Send"!
How effortless was that!? Our team is working hard to make your favorite features more powerful by the day. We're signing off for now, but stay tuned for more awesome updates from the Talentera team soon.
Who gets it?
This enhancement is available for access to all Talentera customers. If you wish to learn more about this feature, please get in touch with your account manager as they will be happy to help.
If you'd like to speak with an expert to learn how Talentera can improve your company's recruiting processes, please get in touch.
Ammara Zubair