Introducing Easy Internal Users Registration
30 Jun 2018
by Ammara Zubair

Array
(
    [0] => WP_Term Object
        (
            [term_id] => 96
            [name] => Product Updates
            [slug] => product-updates
            [term_group] => 0
            [term_taxonomy_id] => 96
            [taxonomy] => category
            [description] => Product Updates
            [parent] => 84
            [count] => 160
            [filter] => raw
            [cat_ID] => 96
            [category_count] => 160
            [category_description] => Product Updates
            [cat_name] => Product Updates
            [category_nicename] => product-updates
            [category_parent] => 84
        )

    [1] => WP_Term Object
        (
            [term_id] => 84
            [name] => Resources
            [slug] => resources
            [term_group] => 0
            [term_taxonomy_id] => 84
            [taxonomy] => category
            [description] => Resources
            [parent] => 0
            [count] => 114
            [filter] => raw
            [cat_ID] => 84
            [category_count] => 114
            [category_description] => Resources
            [cat_name] => Resources
            [category_nicename] => resources
            [category_parent] => 0
        )

)


Product Updates
Recruiting for new vacancies from your existing workforce can be a powerful talent source. However, these candidates can go unnoticed if businesses do not have a proper system in place to consolidate their talent pool, external and internal, in their applicant tracking system. This is why team Talentera is excited to share their new feature update to simplify internal users registration to make talent acquisition more seamless than ever for our clients.

What is it?
Our enhancement allows your employees to register internally on your career portal with nifty features such as smart validation checks to replace any need for manual approvals. All you have to do is sit back and experience the perks of finding the right talent faster- a Talentera advantage that we're proud to deliver.
Why does it matter?
Evolving business needs result in new positions being created, and old ones losing relevance. This is why it's important to have a consolidated talent pool with not just external applicants but internal employees as well. The benefits of recruiting from within your current employees has several benefits- quick hiring, reduced costs, low training expenses and you can even skip the detailed orientation procedures.
Companies also get to reap the benefits of higher manpower morale and stronger employer branding. Employees know that there are opportunities for them to drive their careers forward, thus nurturing a competitive yet equality based culture for high potential talent to thrive in.
How does it work?
Your internal talent can register on your career portal by providing their employee ID. To ensure strong validation control, you can upload your own list of employee IDs to pre authorize any newly registered users ID so no manual approvals will be required.
For other cases where the employee ID does not match any entries in the approved list, or if the registering user has forgotten their unique ID, your admins can still manually approve them later through the moderation privileges assigned to them under the admin panel.
Achieving internal users registration is simple:
1) Click on "Admin Panel" in the menu bar
2) Scroll down under the "Content Management" category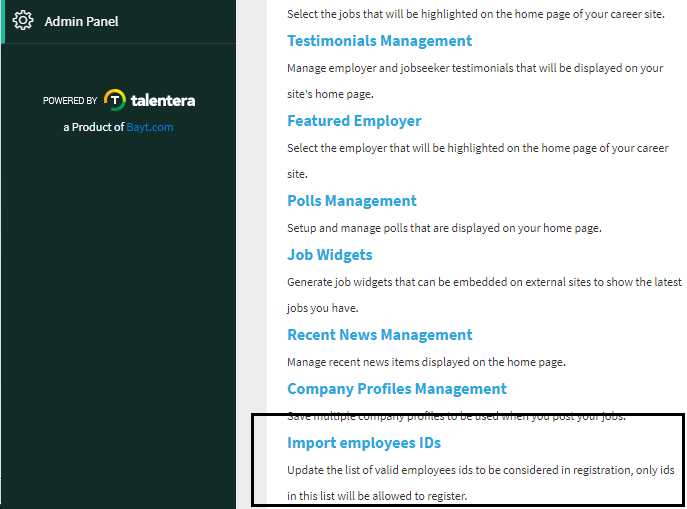 3) Click 'Import employees IDs"
4) Upload your desired list of Employees IDs to authorize internal employees to register (supported format is .csv )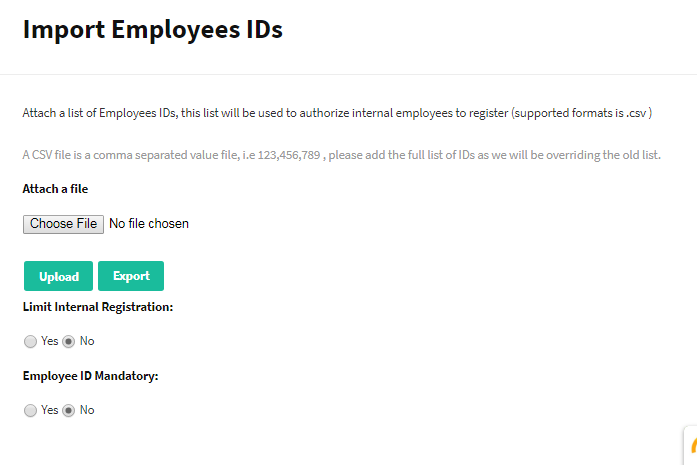 5) That's it! Easy wasn't it?
Straight-forward, smart and user-friendly- take charge of your hiring and improve your talent acquisition strategy with internal users registration today!
Who gets it?
This product update is for our Talentera users with Internal User Registration enabled.  If you wish to learn more about this feature, please get in touch with your account manager as they will be happy to help.
If you'd like to speak with an expert to learn how Talentera can improve your company's recruiting processes, please get in touch.
Ammara Zubair