Get More Done With Improved Candidate Sourcing
22 Oct 2018
by Ammara Zubair

Array
(
    [0] => WP_Term Object
        (
            [term_id] => 96
            [name] => Product Updates
            [slug] => product-updates
            [term_group] => 0
            [term_taxonomy_id] => 96
            [taxonomy] => category
            [description] => Product Updates
            [parent] => 84
            [count] => 160
            [filter] => raw
            [cat_ID] => 96
            [category_count] => 160
            [category_description] => Product Updates
            [cat_name] => Product Updates
            [category_nicename] => product-updates
            [category_parent] => 84
        )

    [1] => WP_Term Object
        (
            [term_id] => 84
            [name] => Resources
            [slug] => resources
            [term_group] => 0
            [term_taxonomy_id] => 84
            [taxonomy] => category
            [description] => Resources
            [parent] => 0
            [count] => 114
            [filter] => raw
            [cat_ID] => 84
            [category_count] => 114
            [category_description] => Resources
            [cat_name] => Resources
            [category_nicename] => resources
            [category_parent] => 0
        )

)


Product Updates

What is it?
Shortage of talent will never be a challenge for Talentera clients. Now hire with supercharged momentum; we've updated candidate sourcing to allow uploading of bulk amounts of CVs, whether through files, or sheets, along with a new interface.
Build your pipelines and expand your talent pool to spot best potential, the results are bound to leave you impressed.
Why does it matter?
Finding the right people to add to the workforce has always been a top priority for organizations. Talentera's team is making competing for talent easier so that recruiters have to spend less time uploading CVs.
Simply source talent from your favorite channels, and the bulk feature will allow streamlined and efficient importing of profiles using three distinct alternatives to get a head start on the hiring process.
How does it work?
Talentera users can add their own sourced candidates using three different methods; Manually, Upload CVs, or through Import CSV Sheet:
Option 1- Add Manually
1) Click on the Sourced Candidates page in the Navigation menu; click on "Add New Candidate" button located in the top right corner.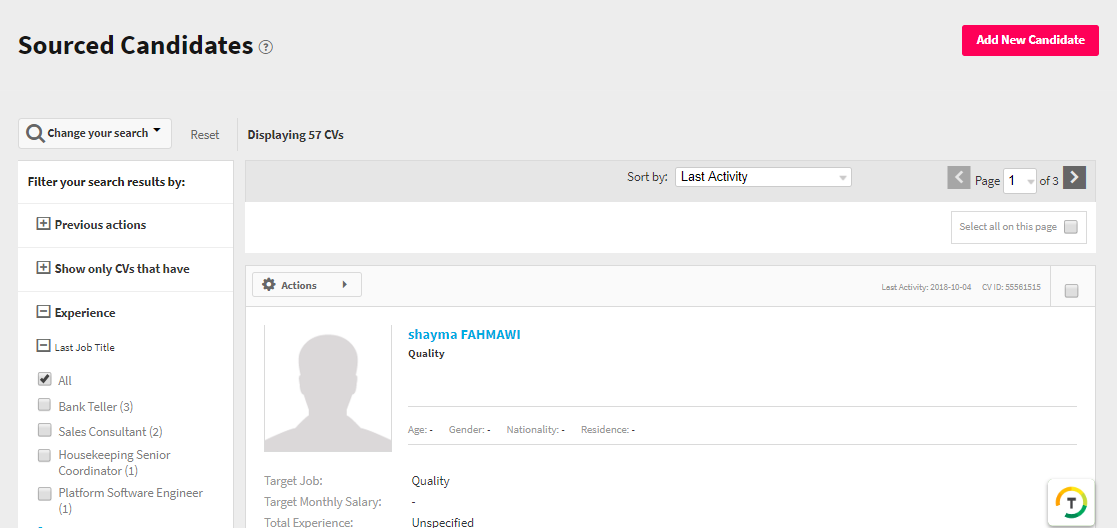 2) You'll see the three new options to choose from, select "Add Manually."  This will lead you to the same form you'd usually fill in the old experience.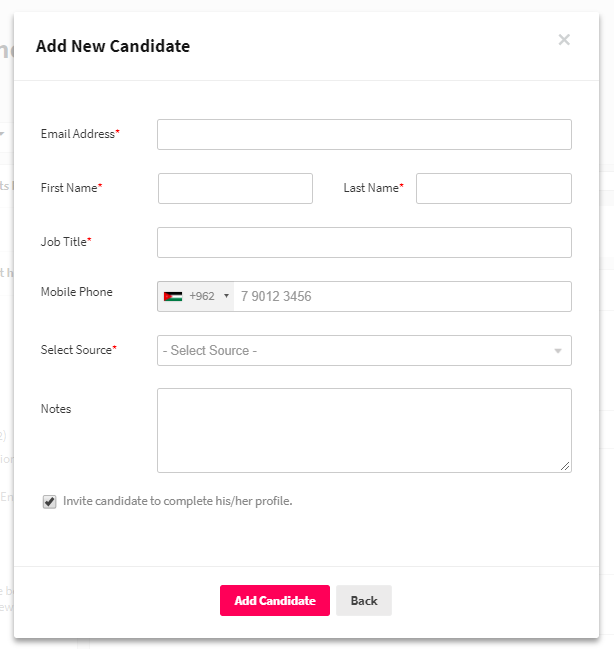 3) Fill the form with the candidate's information, and click "Add Candidate."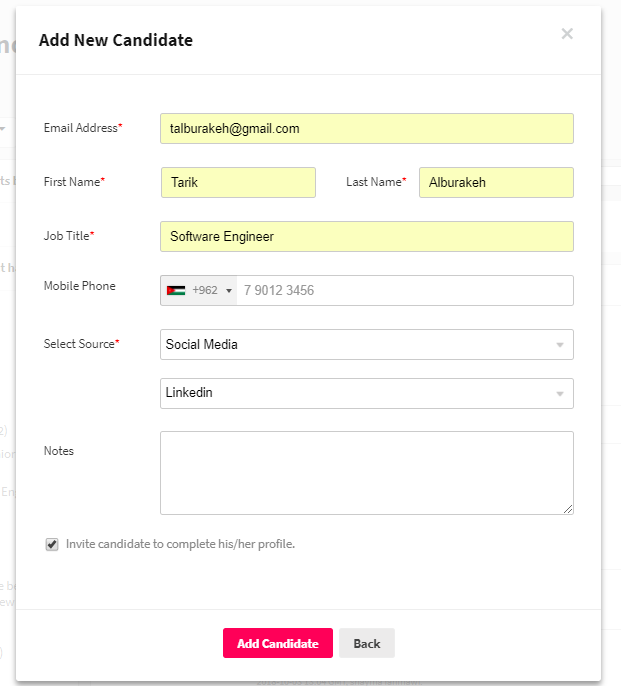 4) You're done! The candidate will be added to the system.
Option 2- Upload CVs
1) Click on "Upload CVs" (from the 3 options);  this will load a new full screen that will allow you to drag and drop your files (or browse for them).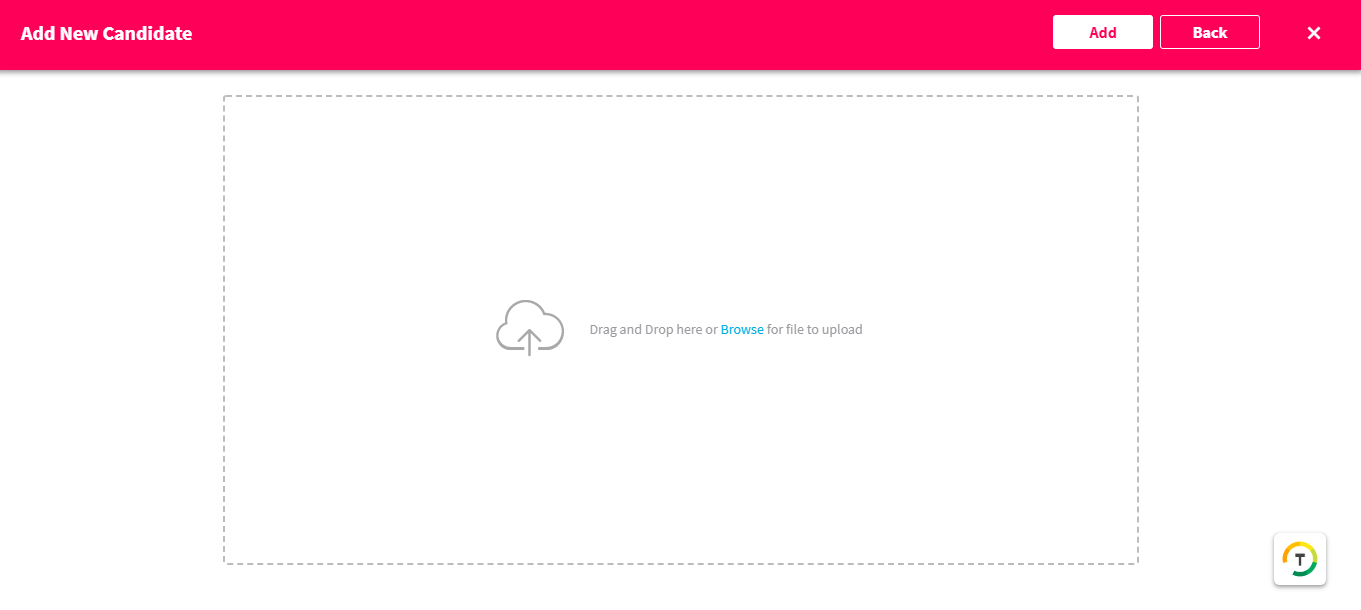 2) Drag and drop or browse your files, and watch as they load into the system and automatically get parsed.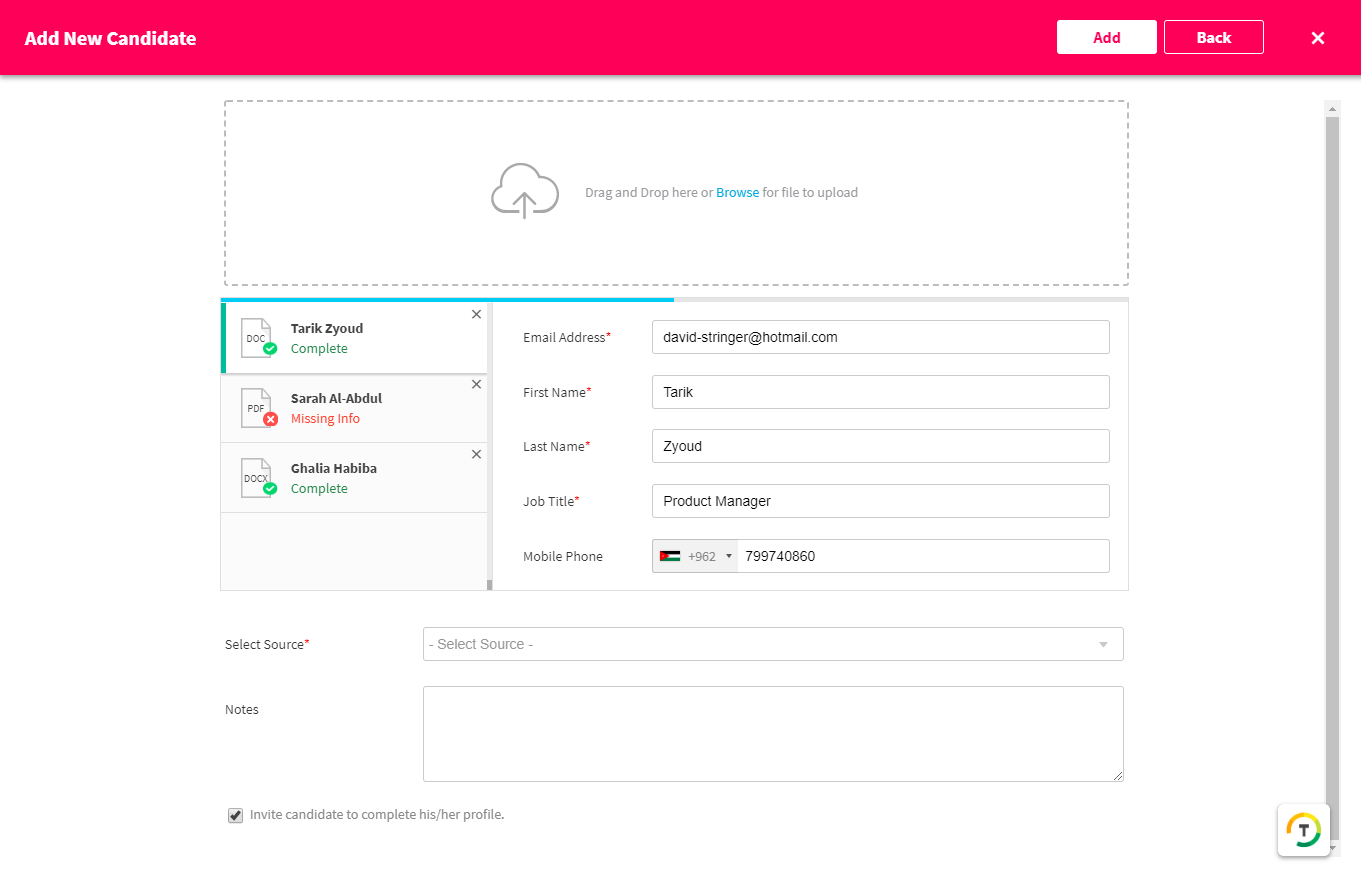 3) Once uploaded and parsed, you will be able to view all the CVs you uploaded, along with their statuses, and edit any missing information.
You will also be required to set a CV Source for all the CVs uploaded, and have the option to add any notes, and whether to invite the candidate to the portal to complete their profile and register.
Once done, click "Add"; the candidates will be added to the system. You will also be given a summary report informing you of the candidates added to the system, along with any not added: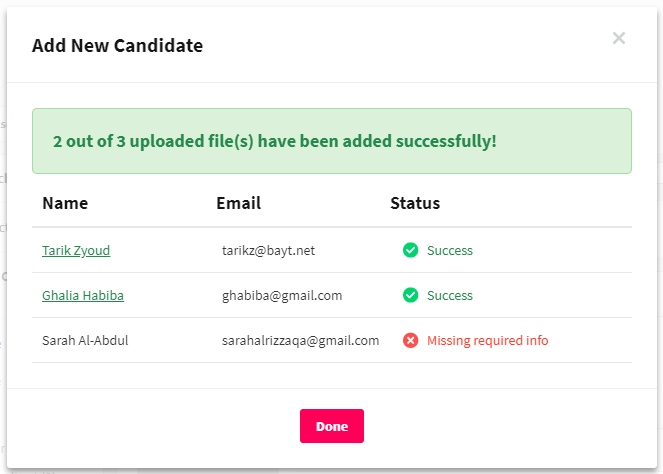 Bonus Special Feature
When you upload a CV, the interface will display a notification mentioning if this CV is also available on Bayt:

Option 3- Importing CSV Sheet
1) Clicking on "Import CSV" (from the 3 options);  this will require the recruiter to upload a sheet of CVs to the system. (Don't worry, we provide a template sheet you can download to add your CVs to).

2) After the sheet is uploaded, simply map its fields to the respective columns, and click "Import".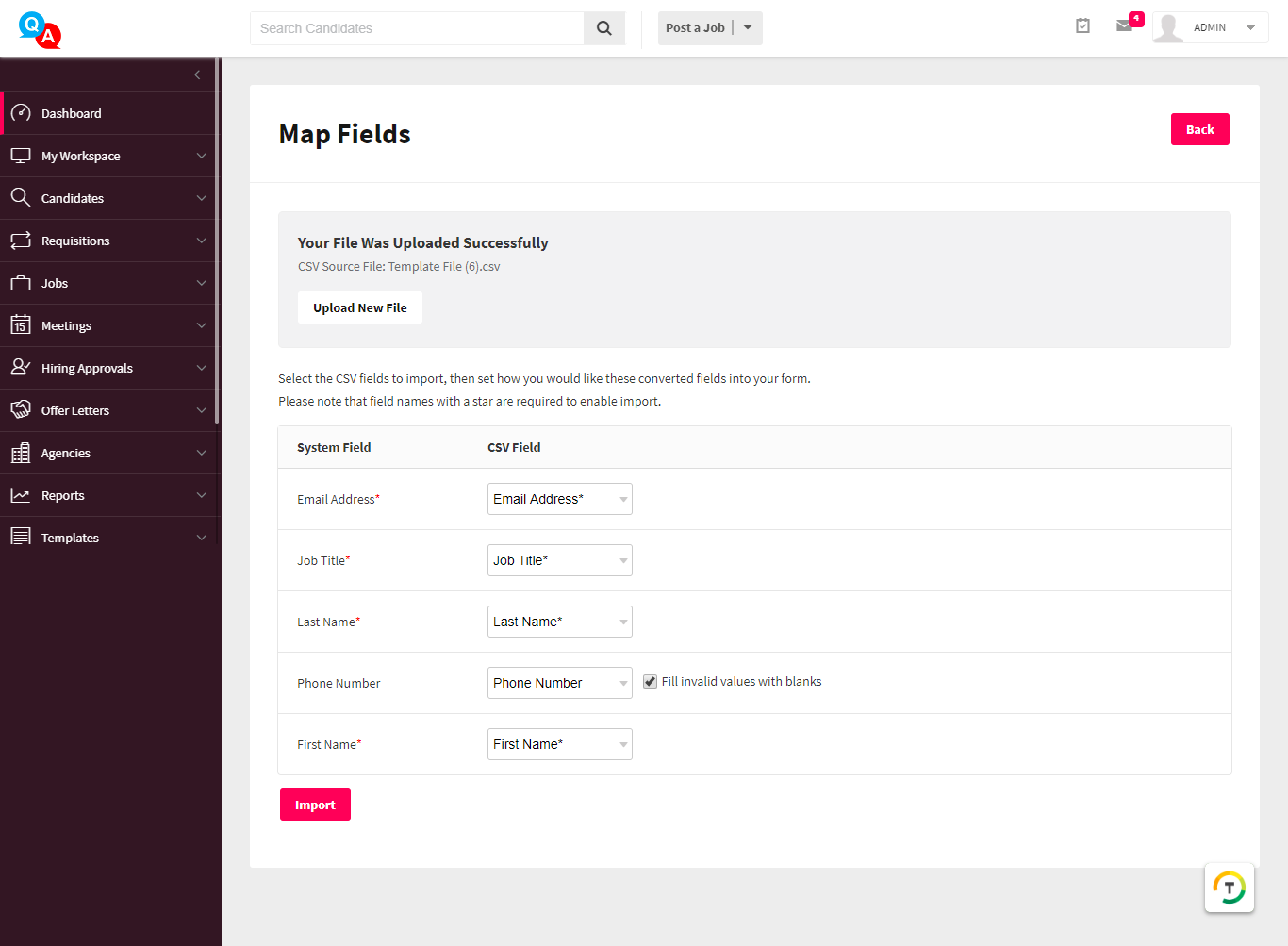 3) Once uploaded and parsed, just one more step- choose the CV source for the CVs uploaded, and choose whether to invite them to the career portal or not, and click "Add".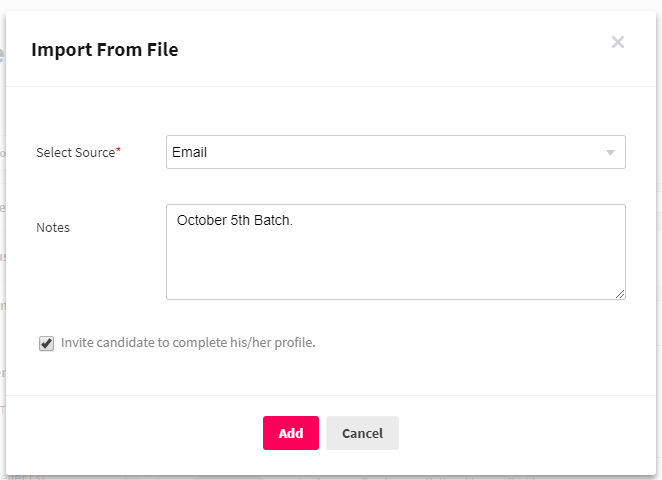 All done! Your newly sourced talent is waiting for you in the system; you'll see a summary report for the CVs added, and can start processing them!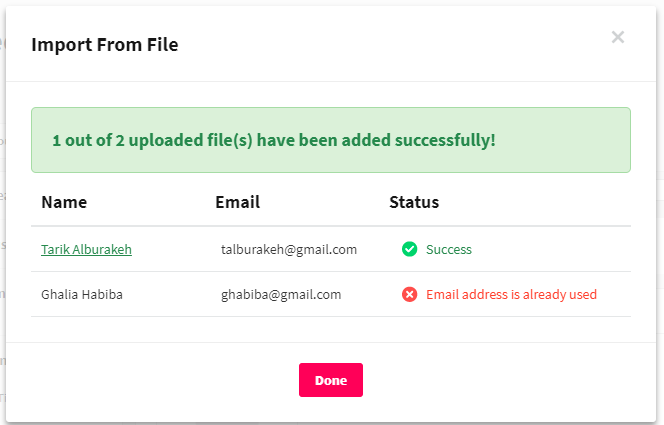 Striving hard to bring the best sourcing experience, do let us know how you like Talentera's revamped functions.
Happy sourcing!
Who gets it?
This enhancement is available for access to all Talentera customers. If you wish to learn more about this feature, please get in touch with your account manager as they will be happy to help.
If you'd like to speak with an expert to learn how Talentera can improve your company's recruiting processes, please get in touch.
Ammara Zubair