FEATURE UPDATE: Taking Control of Your Career Site's Branding & Content
26 Jun 2020
by Huda Nadeem Zaman

Array
(
    [0] => WP_Term Object
        (
            [term_id] => 96
            [name] => Product Updates
            [slug] => product-updates
            [term_group] => 0
            [term_taxonomy_id] => 96
            [taxonomy] => category
            [description] => Product Updates
            [parent] => 84
            [count] => 160
            [filter] => raw
            [cat_ID] => 96
            [category_count] => 160
            [category_description] => Product Updates
            [cat_name] => Product Updates
            [category_nicename] => product-updates
            [category_parent] => 84
        )

    [1] => WP_Term Object
        (
            [term_id] => 84
            [name] => Resources
            [slug] => resources
            [term_group] => 0
            [term_taxonomy_id] => 84
            [taxonomy] => category
            [description] => Resources
            [parent] => 0
            [count] => 114
            [filter] => raw
            [cat_ID] => 84
            [category_count] => 114
            [category_description] => Resources
            [cat_name] => Resources
            [category_nicename] => resources
            [category_parent] => 0
        )

)


Product Updates
What is it?
A career site is an integral part of your sourcing setup and getting it right can make or break your employer branding strategy. We realize how important it is for HR and marketing to keep it aligned with company objectives, both from a design and content perspective.  
While historically, our Talentera tech experts have been more than happy to assist with making design changes for you, we decided that it was time to empower our customers and hand over the control they deserved over their own career sites to make these updates in real-time without any delays.
This design update represents two things: 
We've refreshed our out-of-the-box templates making them more modern, sleek and clean 

Also, you can now make small and big design/content changes instantly using Talentera's new CMS backend. 
How does it work?
We've introduced an option for you to change the look and feel of your career site from the admin panel so you can choose how job seekers browse jobs on your page. 
This Theme Customization feature eliminates the need for you to submit a ticket to the development team and wait for a certain task to be completed based on standard procedures. 
The theme customization offers you the following set of features:
1. Site Logos: Add/Update your company logos at any time
2. Main Banner and Headline: Use widgets for sliders, such as the main banner and headline (This is to replace the previous homepage widgets consisting of latest jobs, recent news, quick search, featured jobs, and so on.)
3. Content Editor: Have complete control over the homepage content. You can create your own default design with content and images of your choice and requirements. The content builder is set to adapt to various types of content, making it work across all smart devices.
4. Social Links: Add/Remove any social media platforms you'd like to link to your page and share with your audience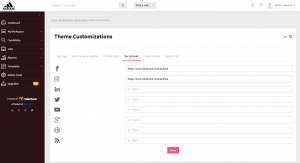 5. Footer Content: Set your default footer content consisting of contact details, links to other pages, and so on
6. Custom CSS: Create and modify your homepage's custom CSS at any time
How Does This Benefit You?
The new and improved theme customization doesn't just provide added features, but also a set of modern layouts with latest fonts that you can use to set up an impressive branded site, all by yourself. 
On the other hand, you no longer have to wait for a task to be completed by the team, when you can simply take over it yourself. We provide a hundred percent support, in any case, but this will help you, especially in terms of ad-hoc pushes such as prompt changes due to unforeseen covid crisis.
Scroll down to catch a sneak peek of a branded career site that you can design using your own set of tools:
What's Next?
This enhancement is available for all Talentera customers. We'd love your feedback on this exciting update.
If you'd like to speak with an expert to learn how Talentera can improve your company's recruiting processes, please get in touch.
Huda Nadeem Zaman