Better Insights With New Hiring Trends Report
18 Sep 2018
by Ammara Zubair

Array
(
    [0] => WP_Term Object
        (
            [term_id] => 96
            [name] => Product Updates
            [slug] => product-updates
            [term_group] => 0
            [term_taxonomy_id] => 96
            [taxonomy] => category
            [description] => Product Updates
            [parent] => 84
            [count] => 160
            [filter] => raw
            [cat_ID] => 96
            [category_count] => 160
            [category_description] => Product Updates
            [cat_name] => Product Updates
            [category_nicename] => product-updates
            [category_parent] => 84
        )

    [1] => WP_Term Object
        (
            [term_id] => 84
            [name] => Resources
            [slug] => resources
            [term_group] => 0
            [term_taxonomy_id] => 84
            [taxonomy] => category
            [description] => Resources
            [parent] => 0
            [count] => 114
            [filter] => raw
            [cat_ID] => 84
            [category_count] => 114
            [category_description] => Resources
            [cat_name] => Resources
            [category_nicename] => resources
            [category_parent] => 0
        )

)


Product Updates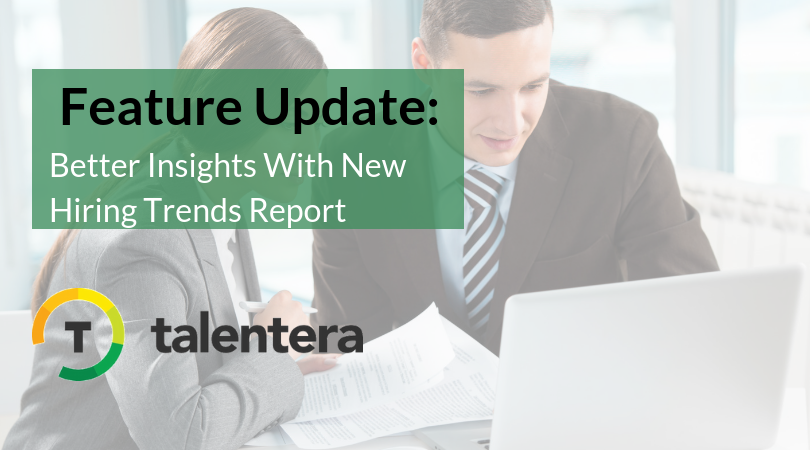 What is it?
Tracking productivity helps organizations assess the impact of their hiring activity. Being able to review hiring trends based on time intervals and filters such as division, location, HR Manager, or Hiring Manager can help provide key insights to avoid performance plateaus, or missing of recruitment targets.
To proactively measure the effectiveness of the company's hiring strategy and HR efforts, Talentera's new Hiring Trends Report uses a multi-layered approach to really dig deep into identifying new hiring activity and support data-driven performance management.
Why does it matter?
To keep your talent acquisition growth from running static, Talentera's new Hiring Trends Report is an intelligent solution to foster a culture of outstanding recruitment with exemplary momentum. A great time-saving resource to add to our set of insightful reports, get ready to ensure that your company's capabilities generate impressive results.
How does it work?
Zooming in to your new hiring activity based on your preferred filters and time interval is very straight forward:
1) Choose the reports tab in the navigation menu; select the new "Hiring Trends Report".
2) This report will show all hires that have been made based on a number of different breakdowns; Division, Location, HR Manager, or Hiring Manager.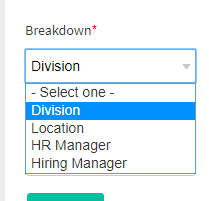 3) Select the time interval of your choice (monthly, quarterly or annually).
4) And you're done (seriously, that's  it). For example, if you wish to view all hires broken down by division, and based on a monthly interval, this report will get you the information you're seeking in practically no time: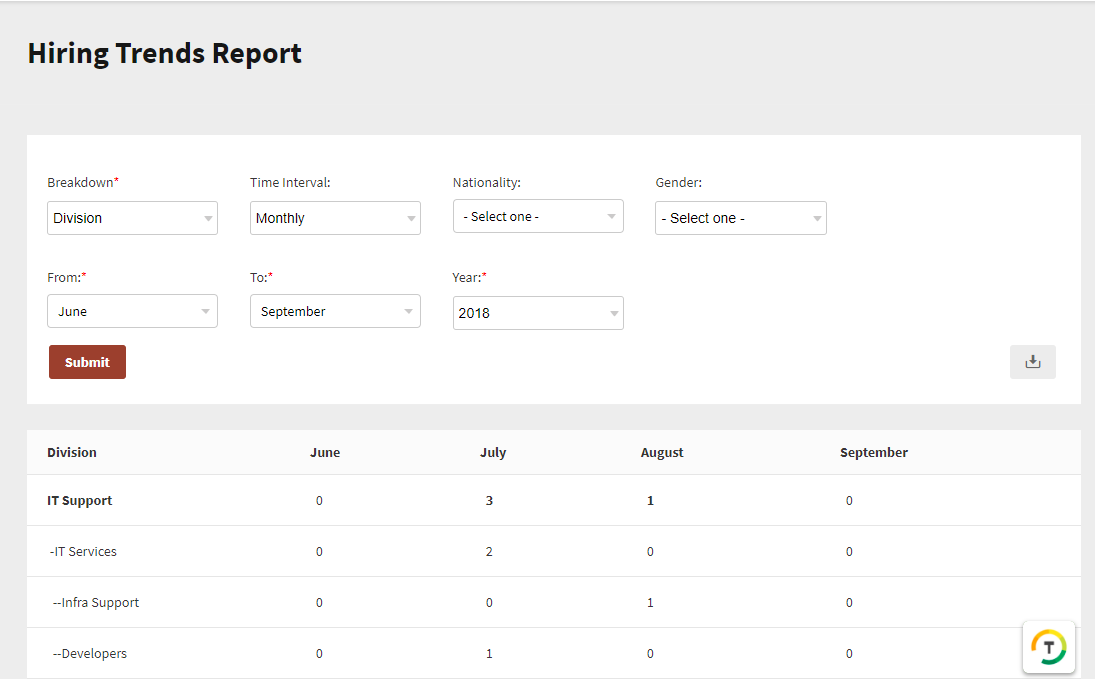 Forget the spreadsheets and the email threads! Tracking all your hires with Talentera's Hiring Trends Report is your pathway to practicing accountability that ensures your hiring team stays at the top of its game, all day, everyday.
Who gets it?
This enhancement is available for access to all Talentera customers. If you wish to learn more about this feature, please get in touch with your account manager as they will be happy to help.
If you'd like to speak with an expert to learn how Talentera can improve your company's recruiting processes, please get in touch.
Ammara Zubair